Press release
The Corston Report – five years on
Justice Minister Lord McNally today visited the Hammersmith-based women's community centre, Minerva, to see first-hand how significant investment has helped bring about changes in the way women are dealt with in the criminal justice system.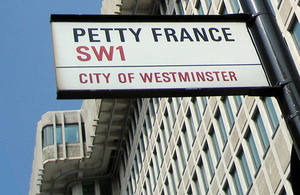 Much has been done to address the needs of female offenders since Baroness Corston led a review on women in the criminal justice system five years ago. New regimes in women's prisons have been introduced and there is now a strong commitment to fund women's community services and divert more women from custody.
The Minerva Centre, in common with a number of other diversionary projects around the country, addresses the underlying causes of women's offending such as drug and alcohol addiction, mental health issues and histories of both mental and physical abuse.
Commenting on his visit, Justice Minister Lord McNally said:
'I was delighted to have had the opportunity to visit the Minerva women's community service this morning.  I have seen how this community-based approach can support women offenders and those at risk of offending by giving practical and emotional support across a range of issues.
'We are fully committed to addressing women's offending. We are working with the Department of Health to roll out diversion and liaison services in police custody and courts by 2014 for offenders with mental health problems. In addition, our continued work to reduce the number of women in prison has seen a significant reduction in short-sentence women prisoners, although I am aware that it is perhaps too soon to signal a long-term trend.'
The number of women receiving short prison sentences was down 11 per cent for the first quarter in 2011-12 from the previous year. The reduction in the women's prison population since 2009 has enabled the Prison Service to reroll HMP Morton Hall from female to foreign national, meeting a commitment to reduce the number of places in the women's estate by 400.  
Notes to editors
The Corston Report followed the self-inflicted deaths of six women offenders at HMP Styal between August 2002 and August 2003. The Home Office Minister, Baroness Scotland, made a Statement on 17 November 2005 about developments at Styal prison following this series of tragic deaths and further work planned relating to women offenders. The Minister noted the need to take stock of the work being done and to look again at the measures in place to address the needs of these vulnerable and damaged women, and commissioned Baroness Corston to undertake the review. This was an important wake-up call for Government and others working with women offenders and those at risk of offending. Read the report.

NOMS will provide £3.5m funding for 30 centres in 2012-13.

The Minerva Project is a women's community service based in Hammersmith set up in April 2010 to offer community based support to women at risk of offending by giving practical and emotional support across a range of issues.  It is a branch of the west London women's charity ADVANCE that was established in 1998 and which specialises in providing support to women through domestic crisis intervention and complex and interrelated problems. They currently deal with between 200 - 250 women per year.

The key aims of the Minerva Project are to:
(a) provide a number of on site services and facilities to support women and to help reduce (re)offending;
(b) lobby criminal justice system partners to reduce the number of women given custodial sentences or remanded into custody, and increase the number of women diverted from prosecution;
(c) to increase the number of women accessing and being sustained in appropriate community provision; and
(d) to reduce the number of avoidable family breakdowns (specifically in relation to children).
Published 13 March 2012