World news story
The Commonwealth gears up to celebrate team spirit
This was published under the 2010 to 2015 Conservative and Liberal Democrat coalition government
Today the UK and Pakistan, along with all other Commonwealth countries, will take part in a coordinated global ceremony to celebrate Commonwealth Day.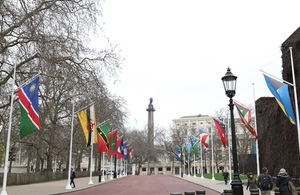 Recognising the Commonwealth Games starting in Glasgow this July, Commonwealth Week"s theme for this year is "Team Commonwealth." Her Majesty Queen Elizabeth II will raise the Commonwealth Flag outside Westminster Abbey later today (Monday), with over 500 flags then raised across the UK.
Since 1977, the Commonwealth family has celebrated Commonwealth Day every year on the second Monday in March. It is a day marked by activities around the Commonwealth, including a multi-faith Observance at Westminster Abbey in London attended by the Head of the Commonwealth, HM Queen Elizabeth II.
Inaugurating the Commonwealth Day celebrations in Pakistan, the British High Commissioner to the Islamic Republic of Pakistan, Philip Barton CMG OBE said:
The Commonwealth, in its unmatched diversity, shows the power and potential in acting together. Team spirit brings the enormous strength of solidarity, unity and the collective striving for greater achievement. As two Commonwealth countries, Pakistan and the United Kingdom draw inspiration and understanding from one another. Our combined efforts build resilience. Working together, we win.
Last month, the Commonwealth Parliamentary Association (CPA) from the UK visited Pakistan to meet the Women"s Parliamentary Caucus (WPC) of Pakistan. The three-day dialogue was organised to enable female parliamentarians from both countries to discuss issues, opportunities and policy-making challenges in their respective countries. They specifically discussed improving governance by assuming greater and meaningful roles as women parliamentarians.
In the run up to Commonwealth Week, the British High Commission, amongst other Commonwealth Missions in Pakistan, supported a Commonwealth cricket match. The match, played in Islamabad, saw the Diplomatic Cricket Association of Commonwealth countries go up against the Pakistan Cricket Board President"s All Star Invitation Team, led by its Chairman, Najam Sethi. The event was inaugurated by Pakistan"s Interior Minister Chaudhry Nisar. I very much enjoyed watching the match. In July, some of the world"s finest athletes will be in Glasgow for the 20th Commonwealth Games. I wish all Commonwealth Games participants all the very best as they prepare to compete on the world stage."
Notes to the Editor
*Click here to watch a video message by the Speaker of House of Lords, Baroness D'Souza, who was heading the CPA delegation from the UK.
*For more information on Commonwealth Games, click here
*Contact: Press Attaché, British High Commission, Islamabad; tel. 051 201 2884