World news story
The City of London reaffirms strong financial ties with Hong Kong
The Lord Mayor of the City of London, Mr Alderman Roger Gifford, visited Hong Kong on 23 September.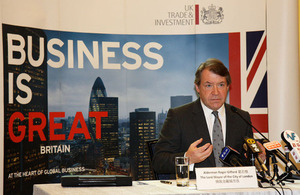 The Lord Mayor of the City of London, Mr Alderman Roger Gifford, paid an official visit to Hong Kong to strengthen the ties between the CityUK and Hong Kong as top global financial centres.
The main focus of his visit was the development of London as a western hub for the RMB market, as a complement to Hong Kong; and promoting the UK as the top global partner on educational, training and qualifications (ETQ), maritime finance, legal business and green finance.
The Lord Mayor's programme in Hong Kong included meetings with Hong Kong SAR Government's Financial Secretary John Tsang and senior representatives of the Hong Kong Monetary Authority, with whom he discussed the offshore RMB market, maritime services and Islamic finance. He also discussed with Hong Kong Exchanges & Clearing their new acquisition of London Metal Exchange. As a keen follower of the development of the West Kowloon Cultural District (WKCD), the Lord Mayor met CEO of WKCD Michael Lynch to talk about business opportunities for UK service providers. He was also introduced to a group of elite inward investment intermediaries including banks, lawyers and fund managers at a dinner hosted by Consul General.
In addition, the Lord Mayor gave a keynote address on London maritime services with Hong Kong shipping industry leaders. He also joined discussions on sharing the UK market experience in developing green bonds.
Further Information
The Lord Mayor acts as the ambassador for UK-based financial and associated services. He is the annually-elected head of the City of London Corporation which provides local government services for the Square Mile, the financial and commercial heart of the UK. Read more about the City of London Corporation and Lord Mayor Roger Gifford
Before Hong Kong, the Lord Mayor visited Shanghai, Beijing and Ulaanbaatar.
Follow the British Consulate-General Hong Kong on Facebook and Flickr
Follow the British Consulate-General Hong Kong on twitter @UKinHongKong
Published 23 September 2013