World news story
The City of London forges strong financial and professional links with Hong Kong
The Lord Mayor of the City of London, Alderman the Lord Mountevans, visited Hong Kong from 7 to 9 September.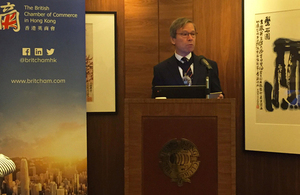 During his first official visit to Hong Kong, he emphasised that following the EU referendum, London and the UK remain the global partners of choice for Hong Kong and mainland China for financial and professional services, and London remains the leading western hub for the RMB market playing a major role in supporting the internationalisation of the RMB alongside other key centres such as Hong Kong.
In his three-day visit to Hong Kong, the Lord Mayor called on Financial Secretary John Tsang to explore opportunities for further cooperation on international trade, including specific opportunities for investors from Hong Kong and mainland China.
The Lord Mayor met key representatives from Hong Kong Monetary Authority, Hong Kong Exchanges and Clearing and the Financial Services Development Council to promote UK-Hong Kong financial and commercial relationships including the development of offshore RMB market, maritime services, green finance and financial technology.
He also promoted the UK's maritime services and training capabilities to the Hong Kong Shipowners Association, spoke at a Hong Kong Marine Insurance Roundtable held by Lloyd's Insurance and updated Hong Kong-based financial services companies on the business climate in the UK after the Brexit vote.
Further Information
The role of Lord Mayor of London has existed for over 800 years, and today the Lord Mayor acts as the ambassador for UK-based financial and professional services industry. The Lord Mayor is head of the Square Mile's City of London authority for one year and the position is unpaid and apolitical. He provides local government services for the Square Mile, the financial and commercial heart of the UK. Read more about the City of London Corporation and the Lord Mayor Alderman the Lord Mountevans

After visiting Hong Kong, the Lord Mayor will pay an official visit to Shanghai, Beijing and Tianjin.
Published 11 September 2016