The City of London and the European Union
Europe Minister David Lidington has made the case for renewed cooperation between government and the financial services industry to ensure that the City of London remains an engine for British, and European, prosperity.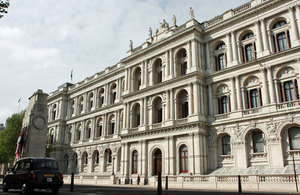 Speaking at an event at Mansion House on 25 May, in conjunction with the Lord Mayor of London, Minister for Europe David Lidington said that the government's determination to rebuild the British economy depended to a large extent on a thriving City to drive growth.
The financial services industry in the UK accounts for 10% of Britain's GDP, a higher proportion than in any other G20 economy; it employs over a million people in the UK, and generates billions of pounds worth of trade surplus - £36bn in 2010.
The City of London is a financial services centre for the whole continent, hosting the European headquarters of all British and most American and Asia Pacific banks as well as European firms such as Societe Generale, BNP Paribas and Deutsche Bank.
Mr Lidington encouraged the City to engage in the debate on financial regulation in the EU, and look carefully at the impact of regulation in terms of costs and benefits. He argued for an approach based on seeking the best regulation, not necessarily the least regulation.
David Lidington said:
"Every day the City helps real businesses in the real economy across Europe provide vital services to citizens. Whether that's through arranging the financing to build roads in Spain, power stations in Hungary or setting up new factories in Poland- the City is providing the capital and expertise to make it happen.
"It is vital to our interests that we try to shape the financial regulation debate by putting our ideas for evidence-based reforms that do not place innovation in a straitjacket but deliver what we need, namely a stable regulatory environment that maintains the global competitiveness of Europe as a location for financial services business."
Published 25 May 2011