World news story
The Chilean mining sector in Liverpool
Director of UK Trade and Investment Chile encouraged British companies to consider the Chilean market, in particular the mining sector.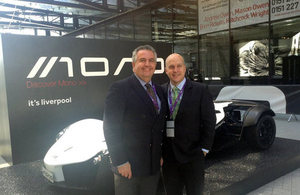 The Director of UK Trade and Investment (UKTI) at the British Embassy in Santiago, Trevor Hines, travelled to Liverpool for the International Festival for Business(IFB). He spoke during the 'Winning business in Latin America' seminar, highlighting the business opportunities available in Chile. Around 100 representatives from the business community attended the event, which was held on 12 June.
Trevor highlighted the opportunities available in the Chilean mining, energy, education, retail and infrastructure sectors. He encouraged more British companies to consider the Chilean market either as potential exporters or as investors.
He held meetings with UK companies actively seeking to export to or invest in Chile.
Darryn Quayle also spoke at the event. Darryn is the mining specialist appointed by UKTI London to explore business opportunities in the Chilean mining sector.
The Prime Minister, David Cameron, opened the Festival by saying:
The Festival is the biggest showcase of British industry since 1951, and will act as a shop window for UK innovation and creativity.
The Mayor of Liverpool, Joe Anderson, added:
I am delighted that people from all over the United Kingdom and from every corner of the globe are visiting Liverpool for the UK's first ever International Festival for Business.
Further information
UKTI helps UK-based companies succeed in the global economy. We also help overseas companies bring their high-quality investment to the UK's dynamic economy.
For more information about this event, please contact Trevor Hines, Director of Trade and Investment, British Embassy, Santiago. You may also visit our UKTI pages to learn about our trade and investment opportunities in Chile.
For more information about the activities of the British Embassy in Santiago, follow us on:
Published 23 June 2014