The British High Commission marks World Press Freedom Day 2013
The British High Commission marked the day with a reception for journalists and bloggers.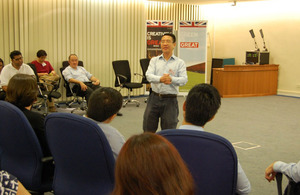 World Press Freedom Day (WPFD) celebrates its 20th anniversary in 2013. It was officially proclaimed during the United Nations General Assembly in 1993. Ever since then, UNESCO as the UN agency with the mandate to promote freedom of expression (including freedom of the press) has been promoting these fundamental rights in every region of the world.
The theme of this year's WPFD was "Safe to Speak: Securing Freedom of Expression in All Media". This theme highlights the issues of safety of journalists, combating impunity for crimes against freedom of expression, and securing a free and open Internet as the precondition for safety online. There were several speakers at the British High Commission's event last Friday.
Martin Hadlow, Secretary-General of non-profit organisation the Asian Media Information and Communication Centre (AMIC) explained the origin of the day and looked back at his time as Director of UNESCO's Division of Freedom of Expression, Democracy and Peace, as well as his early career in offshore ('pirate') radio off the coast of the UK. He recalled an experience in Central Asia in which television cables were cut to take a current affairs programme off air.
Veteran local journalist Clement Mesenas looked back at his career in the Straits Times, as a journalist in the Middle East and at Today newspaper in Singapore. He was once the Secretary-General of the Singapore National Union of Journalists and has recently published a book on a strike that closed the Straits Times in 1971. He now works in online media.
A prominent local blogger and intellectual Alex Au spoke about the emergence of new forms of citizen journalism and how these bring untold stories to public attention.
On World Press Freedom Day British Foreign Secretary William Hague said:
We all owe a debt of gratitude to the courageous journalists who risk imprisonment, injury and death to report from repressive countries or conflict zones around the world. It is easy to take for granted the stream of information that reaches us each day from across the globe. But many people run enormous risks to bring it to us. Fourteen journalists have already been killed in the first four months of this year alone: half of them in Syria. My thoughts are with them and their families and friends. And I also pay tribute to the increasing number of "citizen journalists" who use social media to provide ground truth about what is happening in other countries, who often face pressure and intimidation.
More information World Press Freedom Day:
Photos of the event at the British High Commission Singapore
Published 8 May 2013