World news story
The British Embassy to Italy supports #LightsOut
The British Embassy Rome turns off all illumination and lights a candle for the 100 years since the outbreak of the First World War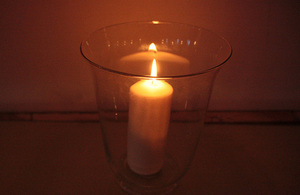 All British citizens are invited to take part in the initiative #LightsOut, turning off the lights of their homes from 10pm to 11pm tonight and lighting a single lantern or candle, for a moment of reflection in memory of the centenary of the start of the First World War.
The British Embassy in Rome will join numerous other missions of the Foreign Office - from New Delhi to Paris, Madrid to Islamabad, Berlin to Moscow - turning off its lights at Porta Pia between 10pm and 11pm in memory of the last moments of peace in 1914.
Lights Out's inspiration stems from the then Foreign Secretary Sir Edward Grey's famous remark on the eve of the outbreak of the war:
The lamps are going out all over Europe; we shall not see them lit again in our lifetime
Britain declared war on Germany at 11pm on 4 August 1914.
Millions of people are expected to participate in the #LightsOut initiative: among these will be hundreds of local authorities, symbolic monuments in the UK, National organisations including the BBC and the Royal British Legion, parish churches and places of worship. Symbolic places like Blackpool Illuminations, Parliament, the Eden Project, the Imperial War Museum and Tower Bridge.
The initiative has been widely promoted in the social media, in particular making use of Thunderclap, a virtual way of amplifying a tweet to be heard all around the world at the same instant.
Turn out your lights tonight from 10pm to 11pm, and leave on a single light or candle. LightsOut for #WW1 Centenary
Further information:
Published 4 August 2014