World news story
The British Embassy in Bolivia issues its first newsletter
The British Embassy will issue a newsletter with information about the Embassy's work and UK engagement with Bolivia, three times a year.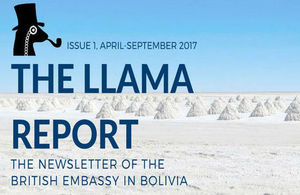 The Llama Report is the newsletter of the British Embassy in Bolivia.
Ambassador James Thornton introduced the first issue and described what the Llama Report hopes to achieve.
Much of the work of diplomats is communicating. We do a lot of that here in Bolivia, but realised we could do more in the UK. We hope to produce this newsletter three times a year. We would also like to hear from you, about what you think of the newsletter, about other people who might wish to be added to our distribution list and about UK engagement with Bolivia (by government, business, NGOs or academics) of which we may not have heard. Where possible we will feature such activity in the future.
You can read the newsletter here.
If you wish to be added to the distribution list, please email BELaPaz@fco.gov.uk.
Follow Ambassador James Thornton on Twitter: @UKThornton
Follow the British Embassy in Bolivia on Twitter and Facebook
Published 24 November 2017