World news story
The British Embassy helps Peruvian doctors detect heart diseases in just 25 minutes
British Ambassador Anwar Choudhury and the President of EsSalud, Gabriel Del Castillo, presented a new and innovative method to diagnose heart disease in Peru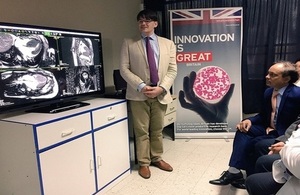 A delegation of experts and doctors from University College London (UCL) and the Barts Heart Centre (BHC), led by Dr James Moon, Professor of Cardiology and the Clinical Director of Imaging at BHC, was in Peru from 24 to 29 November 2016 to carry out a free campaign to promote the diagnosis of heart diseases for over 100 patients at EsSalud's Edgardo Rebagliati Hospital.
This campaign is part of the work that UCL and the Barts Heart Centre have been carrying out to improve the diagnosis of heart disease in Peru, with financial support from the UK Prosperity Fund of the British Embassy in Lima. This project made it possible for the medical staff at Rebagliati Hospital to receive specialised training from UK experts and for Peruvian patients to be diagnosed with unprecedented speed.
The new software developed by the UCL team and the Barts Heart Center has made the diagnosis of cardiomyopathies possible in just 25 minutes. Previously, it took two hours to provide the same diagnosis. Hospital Rebagliati will now be capable of diagnosing a far greater number of patients, and the diagnoses themselves will be more accurate thanks to the new software.
Cardiomyopathy is a disease that damages muscles in the heart and reduces the heart's ability to pump blood to the rest of the body, causing an imperceptible deterioration in the patient's heart. One in every five people in the world suffer from the disease. Heart scanning helps provide more information on the structure of the heart and the presence of infracted areas, or fibrosis.
Published 5 January 2017