World news story
British Embassy Manama celebrates 91st Birthday of HM The Queen
The British Embassy in Bahrain hosted a birthday party for Her Majesty Queen Elizabeth II's 91st birthday.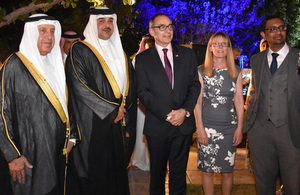 The party hosted by Her Britannic Majesty's Ambassador to the Kingdom of Bahrain Simon Martin CMG, and his wife Sophie Martin. Over 500 guests from the worlds of business, politics and media gathered to express and honour a unique and deep rooted relation between the UK and the Kingdom of Bahrain.
This year's celebrations marked Her Majesty's Sapphire Jubilee, a remarkable milestone that indicates the Queen became first British monarch to reach 65 years to the day since she ascended the throne. The British Embassy was proud to receive His Highness Sheikh Abdulla Bin Hamad Al Khalifa, the personal representative of His Majesty King Hamad Bin Isa Al Khalifa, as guest of honour.
British Ambassador to the Kingdom of Bahrain Simon Martin said:
the UK-Bahrain relationship is a close one, last year we celebrated 200 years since the first formal treaty between us! Since then, our relationship in all areas has grown and evolved. And I am happy to report that we did meet our target of 200 events to celebrate the bicentenary! I can assure you, that the Gulf region remains central to the interests, the security and the foreign policy of the UK. Thank you all for joining us today and a special thanks to your Highness Sheikh Abdullah bin Hamad Al Khalifa. And I would like to ask you to convey the warmest best wishes of all the British community to HRH the Crown Prince, to HRH The Prime Minister and of course to His Majesty King Hamad Bin Isa Al Khalifa, together with our profound thanks for his asking Your Highness to represent him today.
Ambassador Martin expressed his gratitude to BAE Systems, EuroMotors, and National Express, for their generous sponsorship of the event. He also expressed his thanks to the Gulf Hotel, for their hospitality and partnership this year. The Ambassador thanked as well the students of St Christopher's School for their impressive performance, singing the British and the Bahraini national anthem.