World news story
The British Consulate organised a talk about the Cotopaxi volcano
Secretariat of Security from Quito Municipality gave a talk on risks and possible scenarios in likelihood of an eruption of Cotopaxi volcano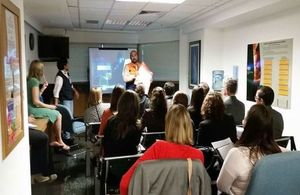 On 17th August, the British Embassy and Consular Section welcomed members of the Risk Management team from the Quito Municipality. Alejandro Terán and Jorge Ordoñez gave a talk on scenarios and risks in the face of a possible eruption of Cotopaxi volcano, and about the importance of being prepared. Preventive material was distributed, including maps of the risk areas in case of affectation from lahars, indicating the location of shelters, meeting points and temporary refuge areas.
Delegations from embassies and consulates from countries in the European Union, Canada and the United States attended. They will be in charge of sharing this information with their respective citizens.
In the final part of this meeting, delegates from the Ministry of Justice and Human Rights were invited to attend so that they could learn about the contingency plan implemented in the Regional Cotopaxi Centre in Latacunga, which due to its location would be affected if Cotopaxi were to erupt, and where various foreign prisoners serving their sentence.
This session is a follow-up to the first meeting held on 24th June with the director of this municipal unit on the "Municipality´s Risk Management System", which was mainly focused on the Cotopaxi volcano due to the increase in its activity in recent months. Delegates from the European Union, Canada and the United States also attended this meeting.
We encourage you to follow information on the official Facebook and Twitter channels of the Coordinating Ministry for Security @Seguridad_Ec, Minister Cesar Navas @navasveracesar and the National Secretariat for Risk Management @Riesgos_Ec.
The British Embassy, through its Consular Section, will continue to strengthen its relation and contact with the authorities in charge of risk management and crisis response.
Published 21 August 2015