World news story
The British Ambassador to the Holy See thanks Apostolic Nuncio
British Ambassador Sally Axworthy expresses her thanks to H.E. Archbishop Antonio Mennini, as he ends his service as Nuncio to Great Britain.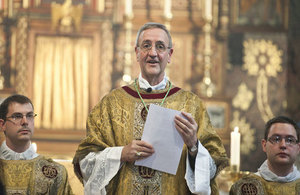 Sally Axworthy, British Ambassador to the Holy See, said:
I would like to thank Archbishop Mennini for all that he has done to promote strong relations between the UK and the Holy See during his time as Apostolic Nuncio in London.
I am personally grateful for his advice to me when I was preparing for my posting as Ambassador to the Holy See, and for his support and friendship in my new role. I look forward to seeing him again when he returns to Rome.
Follow @SallyAxworthy on Twitter.
Published 23 January 2017