The Arab Spring: Freedoms and dignity, not guns and hatred
Minister for the Middle East and North Africa Alistair Burt said Al Qaeda "remains a threat to us all" in an article for Al Arabiya.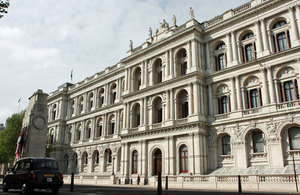 "The death of Osama Bin Laden was a devastating blow to Al Qaeda. But with its message of hatred and violence, Al Qaeda sadly remains a threat to us all.
We have no choice therefore but to continue to fight against terrorism with renewed determination, working with our friends and allies to counter the very real threats that still exist but also to address the political issues–from the Palestinian issue to Afghanistan–that the likes of Al Qaeda seek to exploit.
Britain will continue to play its role in all this. But in the long run it is the people of the Muslim world who will inflict the greatest defeat of all on Al Qaeda and its ideology. The people of Afghanistan know all too well the suffering that Al Qaeda and its allies can bring. So now is the time for the
Taliban to make a decisive break from Al Qaeda, renounce violence and engage in a representative political process to build the better and safer future that the Afghan people deserve.
Of course, this is an Afghan led process, but continued support and constructive engagement from the Muslim and wider world is important for its progress. We encourage those in the region to support Afghanistan and Pakistan as they look to take the opportunity from Bin Laden's death to work closely together to achieve stability on both sides of the border. Meanwhile, we will continue to work to help build the Afghan security forces so they are capable of looking after their own security without the help of foreign forces by 2015.
In the Arab world, Bin Laden's death coincides with the most extraordinary of times. Starting in Tunisia, then Egypt and Libya and beyond to Syria, Yemen and Bahrain, thousands of people have taken to the streets to demand basic freedoms and greater dignity.
We recognize each country differs from the next and both demands and response very. So each country has the right to develop in its own way and in accordance with its own culture and traditions–there is no one model of representation which fits all.
That said, across the region we urge Arab nations to address grievances through dialogue and democratic reform, not through violence. Long-term stability requires real steps toward representative institutions, political pluralism, a free media and economic fairness.
As someone who has followed the Middle East for many years, it has been truly inspiring to see such spontaneous and courageous calls for change from the people themselves. The largely peaceful revolutions in Tunisia and Egypt have shown that those who argued that 9/11 and Al Qaeda's narrative of despair was the authentic expression of Muslim grievances were thankfully all too wrong. In fact, the true face of the people of the Muslim world and their demands sprung onto our TV screens with the Jasmine Revolution in Tunisia. The name is telling, redolent as it is of the beauties of nature and a vivid reminder that the Tunisian revolution was largely peaceful.
The transformational developments in the Middle East present the region with a genuine opportunity to change for the better. It is still too early to say whether the Arab Spring will bring the fundamental changes that so many ordinary Arabs have called for. But it is clear that the forces that led to the Arab Spring will sweep more widely across the globe.
Demands for open government, action against corruption, greater political participation and for people to have respect and dignity will spread by themselves over time–not because Western nations are advocating them, but because they are the natural aspirations of all people everywhere.
It is equally clear that governments that set their face against reform altogether–as Libya has done and Syria seems to be–are doomed to failure. Simply refusing to address legitimate grievances or attempting to stamp them out will fail.
And finally there is no doubt that in addition to the challenge of transforming political gains into lasting change, there are immense economic challenges to be met. While the people of Egypt and Tunisia made a monumental effort to bring change in their countries, the economic challenges they now face will be at least as great. There is a significant tension between people's expectations of immediate economic benefits from their revolutions and the need for these new governments to take difficult measures to open their economies and offer more opportunity to their citizens. We have to do our utmost to help the Arab world make a success of more open political systems and economies, and it is massively in our own interest to do so.
It is, of course, for the people of Tunisia, Egypt and elsewhere to decide their own futures. But the international community can also encourage positive change by being open ourselves to a dramatic new level of engagement with the countries of the Arab world. To this end, Britain will use its weight and influence in the European Union, the United Nations, the G8 and the International Financial Institutions to call for a transformative new relationship with the countries of the Middle East and North Africa.
Britain has itself already committed to offering support to the people of the region, through our Arab Partnership, focusing on the building blocks of democracy–including through assistance in the rule of law, public voice and political participation, youth employability and private sector development. It is not for us to dictate the terms of change in any country. But we take our responsibility to support those who seek more open societies seriously.
There are risks ahead for the countries of the Middle East, yes. All change brings the risk of instability and there are some who will seek any opportunity to create chaos. But the people of Tunisia and Egypt did not take to the streets for nothing or to plunge their countries into violent strife. Those who continue to support Al Qaeda should heed the words of Rachid al Ghanouchi, the Tunisian opposition figure who spent so many years in exile in the United Kingdom, who stated: "Osama died in Tunisia before dying in Pakistan."
Published 12 May 2011