World news story
The Ambassador meets Chevening Scholarship Alumni
The British Ambassador to Egypt met with the Chevening Scholarship Alumni at the British Embassy in Egypt, to promote links with scholars.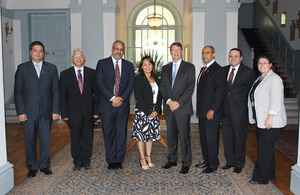 The Ambassador to Egypt Mr. James Watt hosted a lunch meeting on Wednesday 2 June with Chevening scholarship Alumni who have recently been appointed to the Association of Graduates and Trainees from Britain (AGTBE) board.
The AGTBE was established in 1995 as a professional association for Egyptian Chevening Scholars to promote links between the scholars, trainees and alumni of British universities in Egypt. The association aims at engaging its members in social, educational, cultural and professional activities that capitalize on the calibre and knowledge of the members, with the purpose of contributing to the social and economic development of Egypt.
Chevening Scholarships are the UK government's global scholarship programme, funded by the Foreign and Commonwealth Office (FCO) and partner organisations. The Scholarships are awarded to outstanding scholars with leadership potential. Awards are typically for a one-year Master's degree, in any subject and at any of the UK's leading universities. The Scholarships provide a unique opportunity for leaders of the future to build a global network of continuing professional significance and also to establish social, cultural, academic or commercial partnerships with the UK. Chevening Scholars have an excellent record of rising to positions of leadership in their respective professions. For more information on applying for a Chevening Scholarship, visit Chevening website
Published 18 June 2013