World news story
British Ambassador marks 150th anniversary of birth of Greek Statesman
On 25 September 2014 the British Embassy honoured the 150th anniversary of Venizelos birthday with a series of events at the British Residence.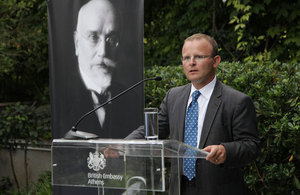 The fine house was built for her husband Eleftherios Venizelos by Elena Schilizzi-Venizelou in 1932. Shortly after Venizelos' death the house was sold to the British Government and since 1936 has been an integral part of the British Diplomatic Mission in Greece.
Former Greek Prime Minister Constantinos Mitsotakis, himself a descendant of Venizelos, planted a tree at the British Residence garden in memory of this day. A dialogue on Venizelos and Britain followed between three distinguished academics: Professor Thanos Veremis, Professor Paschalis M. Kitromilides and former Ambassador to Greece Professor Sir Michael Llewellyn Smith. The evening ended with a cretan music concert by famous Cretan lyra players Ross Daly and Kelly Thoma.
The Ambassador John Kittmer stated:
Today's events are a small token of honour for a great Greek Statesman. My colleagues and I here at the Embassy are very proud of the links between Eleftherios Venizelos and Britain. Venizelos was the foremost Greek Statesman of the 20th century, and his admiration for Britain is well known. I am the 20th British Ambassador (or Envoy) to live in this great house. Like my predecessors, I feel strongly the privilege of living here.
Published 26 September 2014