The A, B, C of 'can do' councils protecting services
Local Government Secretary Eric Pickles has praised three 'can do' councils who are acting to protect frontline services and local council tax…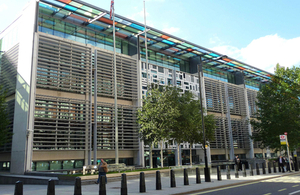 Local Government Secretary Eric Pickles has praised three 'can do' councils who are acting to protect frontline services and local council tax payers.
The nation faces an unprecedented financial situation and every part of the public sector, including local government, which accounts for a quarter of all public expenditure, has a part to play. Many local authorities are showing they can protect frontline services without raising council tax. Councils' revenue spending is still just under £53 billion this year.
Mr Pickles said he was putting councils in the driving seat to use their new freedoms to ask big questions about how services are run and offer the best possible value to the taxpayer. He added that the best would not deliver the same old services in the same way. Many councils are showing the way across the country.
Adur in Sussex were the first local Authorities to set up a partnership working scheme with Worthing by sharing services and a single Chief Executive and management team. Now four years on they have made procurement savings of £2 million and revenue savings of over £3 million to date, with more to come, lowering their base budgets by £25 per cent or £2.5 million whilst protecting services. This included over £1 million through sharing services. Adur's spending power for 2011-12 is just over £10 million.
In 2009-10 they started saving £652,000 a year from sharing refuse and recycling, street cleansing, financial services, legal and democratic services, corporate services, and customer services. And last year (10/11) further savings of £350,000 a year were made by extending the arrangement to planning, parks, IT, building surveying, and environmental health.
Bury Council has taken steps to reduce blue badge fraud. A recent check of the 12,000 blue badges issued by the council found that 224 permits belonged to persons found to be deceased, had not been returned or were still be in circulation.
Bury introduced a new permit application procedure aiming to be more consistent, fair and timely for the customer. It will cut down on fraudulent abuse and to save taxpayers at least £4,000 a year.
People will only be able to apply online or by phone but they must collect their own permits in person. Council staff will validate personal information with benefits service staff to ensure people are entitled to claim. It will not change a person's entitlement to a blue badge.
Mr Pickles recently published a 10 point blueprint devised by experts at the national fraud authority to tackle £2 billion fraudulent practices being inflicted on local government.
Cornwall Council, a new unitary and one of the largest in the country, is showing quick action can make a real difference to tighter finances. Within a week of the Comprehensive Spending review they had agreed £170 million of savings over four years with £9 out of every £10 coming from efficiencies including senior management, properties and duplication. They also took immediate steps to save £75 million that year having calculated that each weeks delay would cost an additional £300,000.
Services to vulnerable people and essential services that affect everyone were prioritised for protection. Up to £10 million of the savings were identified from the pay bill. This included a Chief Executive pay cut and an elected Members vote to reduce allowances by 23 per cent. On procurement they also streamlined their waste collection contracts from six to one council wide contract cutting a £25 million cost by £3 million and providing a better service. The Settlement saw the council's spending power reduced by 3.26 per cent in 2011-12.
Local Government Secretary Eric Pickles said:
Adur, Bury, Cornwall - that's an ABC of can do councils protecting the services their communities' value with creative thinking. There are many more showing residents and councils that where there is a will there is a way for local authorities to keep taxes down and protect frontline services. It leaves me in no doubt that local communities have the talent and initiative to harness the new powers coming their way.

Driving down the nation's deficit is the Governments biggest priority but we have made sure that extra money is available to protect the public from council tax rises offering real help to hard working families and pensioners. The new localism powers and spending freedoms we are handing councils will help them be as efficient and effective as possible.
Government distributed £29.4 billion of council grant fairly between different parts of the country - north and south, rural and urban, metropolitan and shire. As a result councils will only see an average 4.4 per cent reduction in revenue spending power and none will now face more than an 8.8 per cent fall. In addition all councils have been given a share of £650 million for signing up to Government council tax freeze initiative.
Twitter
Keep up to date with the Department by following us on Twitter (external link).
Media enquiries
Visit our newsroom contacts page for media enquiry contact details.
Published 16 June 2011