The 5th UK-China Architecture Forum held in Guangzhou on 4 July
The 5th UK-China Architecture Forum explored solutions to ''Urbanisation in China'', with a theme ''Constructing A Greener Future".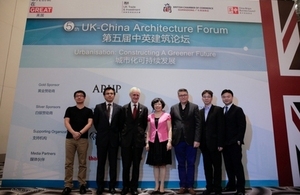 Opening the 5th UK-China Architecture Forum (UKAF) on Friday 4 July in Guangzhou, Alastair Morgan, British Consul-General said "Urbanisation will bring China unprecedented challenges".
"Guangdong has a large population yet limited land. Excessive land use comes with environmental problems; Guangdong's urbanisation rate ranks top in China, yet the quality of urbanisation is low." Ms Li, from the Department of Housing and Urban-Rural Development of Guangdong Province posed the question to delegates at the Architecture Forum: "How will Guangdong Province develop its new model of urbanisation by shifting our urbanisation focus from 'quantity' to 'quality'?"
With over 200 participants, including: Chinese Government policy makers, opinion leaders from the mainstream media, as well as the key industry players from both Chinese and British architecture and construction companies, the forum was well placed to answer this difficult question.
Alastair Morgan explained why the UKAF is the right platform for the right people to share their ideas with each other. He said:
The UK has faced some of these same challenges before, and I believe the UK has useful experience that we can offer to China to help overcome these current difficulties.
Representatives of British companies at the event shared examples of their impressive and successful cases. Arup's Associate Director Tom Cheung talked about how to build lower energy consumption buildings as an integral part of the urbanisation process. Cheung said that China should adopt advanced low-carbon technologies at the start of the process including initial planning, and consider carbon emission reduction in the subsequent building design. He presented one project in Qianhai to demonstrate how to effectively reduce power consumption. This referred to the district cooling system in Qianhai's Shenzhen-Hong Kong cooperation zone, which used sea water and waste heat.
Ms Li picked up this theme and confirmed that her report on the "New Urbanisation Development of Guangdong" planned for 2014 emphasized that Guangdong is tasked to apply green technologies to transfer Guangdong into eco-friendly cities while at the same time continuing the urbanisation programme.
In addition to sharing his experience on sustainable development, award-winning architect and urban designer Jun Huang, Partner from Wei Yang & Partners, expressed his optimism on China's urbanisation. He said:
It is now going through an adjustment period after a remarkable process seeing it passing the 50% benchmark, which I believe is a great opportunity for both local governments, developers and designers to work together and prepare for an even greater leap ahead. Successful urbanisation must be sustainable, which requires a more energy-efficient process, a more balanced urban-rural integration and a better harmony between the mankind and nature. We believe that the 'integrated' approach we adhere to will be key to China's future success.
Ken Wai from Aedas mentioned that revitalisation and urban regeneration is a new trend in Asia. He saw many old houses and buildings demolished when China urbanised its villages, and he questioned the logic behind this widespread destruction. He said that urbanisation doesn't have to mean tearing down old houses and replacing them with new buildings. He pointed out that old houses are not allowed to be demolished without a good reason in the UK; instead they are often rebuilt and transformed so that people can still appreciate the history associated with these buildings.
This point was strongly endorsed from the floor, with many participants emphasising the importance of learning to integrate the old and the new in the urbanisation process. The combination of pre-existing architectural heritage and newly designed building confirm that we can be confident in the future, while acknowledging and being respectful of the past.
The 5th UK Architecture Forum is a joint event, hosted by of the British Consulate General Guangzhou, UK Trade & Investment, the China Britain Business Council (CBBC) and the British Chamber in Guangdong in response to the significant opportunities for UK-China cooperation on the theme of urbanisation.
Published 14 July 2014