Press release
Thames Barrier to close for first time this winter
The Thames Barrier is to close today for first time this winter to ensure London is protected from risk of flooding.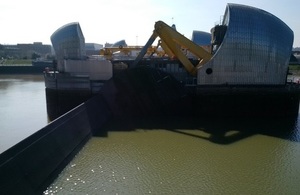 With heavy rain across the south east over the last week, flows on the River Thames have increased. These high flows have coincided with spring tides (when tides are usually at their highest during the tidal cycle) so the Environment Agency will close the Thames Barrier at 11:30am on Wednesday 10 February to reduce the risk of flooding in London and along the Thames catchment.
The Thames Barrier is one of the largest moveable flood barriers in the world, protecting 125 square kilometres of central London, encompassing 1.25 million people and the infrastructure that London depends on.
It stretches 520 metres across the River Thames at Charlton and each gate takes 10 to 15 minutes to close (1 and a half hours for total closure of the barrier), and the control room is manned 24 hours a day, every day of the year.
Steve East, Engineering Manager at the Thames Barrier said:
We are closing the barrier to protect London from the threat of flooding due to the high level of rain last week combined with high tides from the sea.

We are urging people to check their flood risk, prepare for flooding, follow the advice from emergency services and never risk driving through flood water. Practical advice on preparing for flooding can be found on GOV.UK or by calling Floodline on 0345 9881188.
Published 10 February 2016