Sports & Olympics Minister visits London 2012 sailing venue.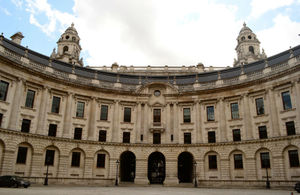 Hugh Robertson visited the Weymouth and Portland International Regatta on 3 August to see preparations for the London 2012 Olympic and Paralympic sailing events.
During the tour of the venue, which was the first London 2012 Games venue to be finished Mr Robertson saw the facilities being used by the GB squad to prepare for competition and visited the Athletes' Village.
World Class
"I was really impressed with the venue and facilities in Weymouth and Portland which will leave a fantastic legacy for the area and help Weymouth market itself as a world class sporting destination," said Mr Robertson.
The International Regatta is part of the London Prepares series hosted by the London 2012 Organising Committee to practice and test the systems and processes for the Games. Around 440 athletes from 66 nations will sail the Olympic race course over the 14-day regatta which will involve more than 170 races and practice sessions.
A number of countries including the USA, Spain and China have already established a training base in Weymouth so that the can practice in Games time conditions.
Further information
Guest blog from Jacqui Gisborne, Head of PR for Weymouth and Portland Council (23 December 2010)
Published 23 July 2012