News story
Charred clocks bring an emotional reminder that it's Time to Test
Fire Kills - When you change your clock test your smoke alarm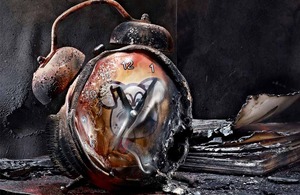 A hard-hitting campaign offers a timely reminder that changing our clocks isn't the only important task to carry out over the weekend of 27 to 28 October - the clear Fire Kills message is that it's time to take life-saving action and test our smoke alarms too.
The simple task of making sure our smoke alarms work is something that many often forget. But people are more than 4 times as likely to die in a fire if they do not have a working smoke alarm, so the Fire Kills campaign is using the twice-yearly clock change chore to remind people that it's time to test.
Images of charred timepieces that bring to mind a child's bedside table, a grandparents' mantelpiece, and a quiet night in front of the TV, pull on the heartstrings to remind householders of the lives at stake if their smoke alarm isn't working.
In 2011 to 2012, there were 30,709 accidental fires in the home, resulting in 187 fatalities and more than 6,000 injuries. The number of fatalities was 12% lower than in 2010 to 2011 and Fire Kills aims to keep these figures going down because behind every death is a tragic story of loss for family and friends.
Almost half of those people who died in dwelling fires last year were aged 65 and over. This year the campaign is urging carers, family and close neighbours to offer to test older people's smoke alarms for them as they are often out of easy reach.
While a working smoke alarm can buy people valuable time to get out, stay out and call 999, only half of all householders who own a smoke alarm say that they test it is working on a regular basis.
The campaign aims to make testing our smoke alarms part of every household's routine when changing our clocks, potentially saving many lives in the future.
Fire Minister Brandon Lewis said:
"The smoke alarm is a proven saviour, and while the great majority of homes now own one, that's simply not enough - it must be working to save your life.
"Keeping ourselves and our loved ones safe from the worst should never be left to chance. That's why this campaign reminds us of exactly what's at stake if the worst should happen.
"The clock change offers the perfect prompt to carry out the simple task of testing your alarms and offering to test for other people - especially older friends and relatives who may find it difficult to do it for themselves.
"Last year, nearly one in seven adults tested their alarms over the clock change weekends and we want many more to test this year. A simple task, taking just a few seconds, can mean the difference between life and death, so add it to your 'to do' list now. Our message is clear - it's time to test."
The Government's Chief Fire and Rescue Adviser Sir Ken Knight said:
"You're more than four times as likely to die in a fire without a working smoke alarm. But despite this, only half of the people who own an alarm say they take the time to test that it's working.
"Almost half the people who die in accidental fires in their home are aged over 65. Let's reduce this shocking statistic by offering to help older family members or other elderly people we care for and test their alarm for them.
"A smoke alarm can give you the vital time you need to get out, stay out and call 999 in a house fire. As you put your clocks back on the weekend of 27/28 October take an extra moment to make sure your alarm is working properly - it could save your life."
Listen out for the radio adverts and look out for the press adverts supporting the 'When you change your clocks, test your smoke alarms' campaign.
There is also an online video showing a mantelpiece clock melting in the heat of a house fire - bringing home just how fast a fire can hit.
When you change your clock, test your smoke alarm
Find out more on the Fire Kills Facebook page.
Help keep yourself and your loved ones safe in the home by following these simple steps:
a working smoke alarm can buy you valuable time to get out, stay out and call 999. Make sure you fit one on every level of your home and test them regularly
make testing your smoke alarm part of your household routine; test the alarm by pressing the button regularly; change your battery once a year or invest in a 10-year alarm; and clean the alarm casing twice a year to ensure dust doesn't block the sensor
whatever happens, never remove the battery in your smoke alarm
make sure that everyone in your home knows what to do in a fire and practise your escape route
for more information visit the Fire Kills Facebook page
If you want an extra nudge to test your smoke alarm regularly, try setting an automatic reminder. Safelincs, in partnership with the Fire Kills campaign, has created a free service that reminds you, by email or text, when it's time to test your smoke alarm, change the battery or renew the unit. The service is completely free and can be cancelled at any time. For more information visit the Safelincs website
Further information
British Summer Time (BST) ends on the last Sunday in October. The clocks go back at 2am BST on 28 October to 1am Greenwich Mean Time (GMT).
Fire statistics can be found in the Fire statistics monitor: April 2011 to March 2012.
Research conducted by Ipsos API on the 2011 to 2012 Fire Kills campaign showed that 14% of respondents (total 1690) tested their smoke alarms over the March clock change weekend.
Published 17 October 2012