News story
Tera Allas takes up post as Director General for Economics, Strategy and Better Regulation
Tera, who was until recently the Chief Economist and Director of Transport Analysis and Economics at the Department for Transport, will lead…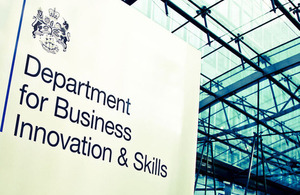 Tera, who was until recently the Chief Economist and Director of Transport Analysis and Economics at the Department for Transport, will lead a new group at BIS which will focus on delivering the Government's agenda for creating the best conditions for sustainable growth, reforming regulation and ensuring that policy is based on sound analysis, evidence and economic thinking.
Permanent Secretary Martin Donnelly said:
"Encouraging sustainable economic growth is the key priority for BIS in 2011. Tera and her new group will be at the very centre of delivering that; making sure that we coordinate all the different strands of work and are all pulling together.
"Tera's experience in Government and in the private sector will be invaluable to the Department in these challenging times. I know she will be able to hit the ground running and make a real difference to UK plc. "
Tera Allas said:
"I am delighted to be joining BIS at this exciting and dynamic time. The Department has a fantastically important and challenging policy and change agenda and I look forward to working with colleagues to make it a success.
"The new group that I will be leading has the potential to make a great difference by building on the capability and synergies that already exist in BIS between strategy, economics, analysis and better regulation and leveraging its cross-cutting nature to support the BIS and broader Government delivery agenda."
In addition to her Departmental duties, Tera is also the Deputy Head of the Government Economic Service.
The creation of the new group is the latest part of the Department's work to make sure that it is focused on delivering growth. The priority of this work is making sure that the Department has the right people with the right skills to make sure that happens.
Notes to Editors
Tera look up her position at BIS on Monday 3 January 2011.

Tera Allas joined DfT in January 2009. She was an active member of the Department's Strategy Committee and led a multi-disciplinary team of analysts at the centre of the Department. The team's aim was to facilitate evidence-based policy development and delivery across the Department by providing clearly articulated research, analysis and advice to support decision making. As the Chief Economist, Tera was also responsible for developing the Department's economics capability.
Prior to joining DfT, Tera was the Chief Energy Economist and Director of Energy Market Economics at DECC (previously DTI/BERR) and the Deputy Chief Scientific Adviser at BERR. She joined DTI in 2004 to develop and deploy its analytical capability to provide sound economic advice on energy markets and energy policy. In addition to leading a team of economists, Tera's own work concentrated on policy implications of energy prices, investment and security of supply dynamics, with a more recent focus on the costs and benefits of the Government's climate change policies, especially in relation to renewables.
Prior to joining the DTI, Tera worked for 10 years as a management consultant with McKinsey & Company across a number of sectors, with a primary focus on corporate and business unit strategy, microeconomics and corporate finance. Tera also acted as a co-leader of McKinsey's global strategy practice and senior expert on the electric power and natural gas sectors in Europe. Tera holds a M.Sc. in Technology and Industrial Economics (with distinction) from Helsinki University of Technology and an M.B.A. (with distinction) from INSEAD.
Tera will receive a remuneration package of £115,000 and was appointed in accordance with the Recruitment Principles set out by the Civil Service Commissioners.

The new groups in BIS are:
Economics, Strategy and Better Regulation, led by Tera Allas;
Market Frameworks, led by Bernadette Kelly;
Business and Skills, led by Philip Rutnam;
Knowledge and Innovation, led by Sir Adrian Smith;
Finance and Commercial, led by Howard Orme; and
Legal, people and communications, led by Rachel Sandby-Thomas
BIS' online newsroom contains the latest press notices, speeches, as well as video and images for download. It also features an up to date list of BIS press office contacts. See http://www.bis.gov.uk/newsroom for more information.
Notes to Editors
Contact Information
Name BIS Press Office Job Title
Division COI Phone
Fax
Mobile
Email NDS.BIS@coi.gsi.gov.uk
Name Nick Evans Job Title
Division Department for Business, Innovation and Skills Phone 020 7215 3496 Fax
Mobile
Published 14 January 2011