Press release
Tenth British aid flight delivers medicines for Ebola treatment facilities in Sierra Leone
Britain's latest Ebola aid flight, carrying lifesaving medicines, landed in Freetown today, International Development Secretary Justine Greening has confirmed.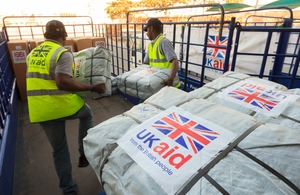 This was the UK's tenth aid flight and carried the first batch of medicines, including morphine and antibiotics, from the UK for the 92 bed treatment facility in Kerry Town, which is nearing completion.
The cargo also included a chiller van vital for transporting heat sensitive medicines in temperatures that can reach up to 40°C and five additional 4x4 vehicles needed to ensure that vital stocks can be transported to the 6 treatment centres the UK is building to help defeat Ebola.
Justine Greening said:
The UK has mounted a huge response to the Ebola outbreak, dispatching ten aid flights so far, carrying hundreds of tonnes of supplies for our treatment centres which will care for up to 8,800 patients over 6 months.

I have just returned from Freetown where I saw first-hand the scale of the outbreak and the central role that the UK is playing in helping Sierra Leone defeat Ebola.
Aid supplies delivered so far now include: 58 vehicles including ambulances; 75 water tanks; 3 incinerators for disposing of clothing and other materials; 12 generators; personal protection equipment; radio equipment; lighting sets; chlorine for sanitation; WC facilities; temporary warehouse tents; 14 air conditioning units and isolator equipment.
Notes to editors
During her visit to Sierra Leone this week, Justine Greening saw the early results of Britain's response to Ebola, including:
the national stadium in Freetown where the Department for International Development is funding the World Health Organisation (WHO) and British Army medics to train local and international health workers every week in how to treat Ebola and to safely wear personal protection equipment. UK support has allowed the WHO to double the number of health workers trained to 240 every week;

burial team training and a new UK-funded command and control centre which will manage safe burials across Freetown and the Western Area; and construction of the Kerry Town treatment centre, which will provide 92 treatment beds when fully operational.
The UK is leading the international effort to contain, control and defeat the disease in Sierra Leone.

This includes support for 700 Ebola treatment beds. These will provide direct medical care up to 8,800 patients over six months. It will also shore up the country's stretched public health services to help contain the disease. This includes vital supplies such as chlorine and protective clothing for thousands of health workers.

With UK support, WHO are now training over 240 health workers every week.

750 Ministry of Defence personnel will be deployed to help with the establishment of Ebola Treatment Centres and an Ebola Training Academy. This will include:
The deployment of RFA Argus to take and support three Merlin helicopters, aircrew and engineers in the region to provide crucial transport support to medical teams and aid experts. This will involve around 250 personnel;

Over 200 military staff to run and staff World Health Organisation-led Ebola training facility that will assist in the training of healthcare workers, logisticians and hygiene specialists who are needed to staff treatment units;

300 military personnel making up the existing UK taskforce plans focussed on delivering support to the Sierra Leone government.
On 2 October the UK hosted - alongside the government of Sierra Leone - an international conference to rally the global community to provide an effective international response. The conference brought together more than 20 governments, a dozen charities and NGOs, the UN, World Bank, health experts and the private sector to pledge funds, equipment and health workers.
General media queries
Follow the DFID Media office on Twitter - @DFID_Press
Published 23 October 2014