Press release
Tenth anniversary of Boscastle and North Cornwall Floods
Some of the worst floods ever seen in Britain devastated Boscastle and surrounding areas of North Cornwall ten years ago on 16 August, 2004.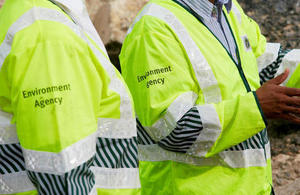 Two million tonnes of water flowed through Boscastle caused by 5 hours of torrential rain. The flash floods affected hundreds of homes and businesses, destroyed 4 properties in Boscastle and 2 at Crackington Haven, swept away about 115 vehicles and badly damaged roads, bridges, sewers and other infrastructure.
The Environment Agency worked with professional partners to remove around 4,000 tonnes of flood debris from Boscastle, including shingle which had been deposited in the village. More than £10 million of improvements were carried out.
The Agency worked with Cornwall Council's predecessors, the National Trust, Forrabury and Minster parish council, the Chamber of Trade and Commerce and South West Water to develop flood defence schemes for both the River Valency and River Jordan as part of the village's post flood regeneration.
Flood schemes were upgraded in the nearby communities of Canworthy Water and Helebridge.
The defences and regeneration works in Boscastle were sympathetically designed to respect the historic character of the village and reduce the risk of property flooding. The work was partly funded by the European Objective One as well as flood defence grant in aid. Local levy funding was used to fund the upgrade to defences in Canworthy Water.
The Valency scheme included widening and deepening of the river and replacing the lower bridge to increase flow capacity. The main car park was raised and set back from the river to make space for water and sediment and a new tree management regime was introduced to reduce the risk of tree blockage.
The Jordan flood defence scheme involved installing a flood relief culvert behind Marine Terrace, down Old Road, via a new dissipation chamber. The Environment Agency also worked with Cornwall Highways to carry out flood risk improvements at a number of culverted highway crossings on the upper reaches of the River Jordan. A stone catcher was installed above Paradise Road to reduce the chance of the new highway culverts blocking.
Andrew Houghton from the Environment Agency said:
Since their completion the new defences have worked successfully to protect communities across Boscastle and North Cornwall on several occasions, notably in 2010 and 2012.
We have worked closely with people in Boscastle and other such rapid response catchments to raise awareness of the flood risk in these areas and develop community flood plans. Local residents and businesses in these catchments have been helped to achieve greater flood resilience and this work is ongoing.
The Environment Agency recently introduced a bespoke flood warning service for Boscastle which uses information from rain and river gauges in the area.
Ends
Published 14 August 2014