News story
Tens of thousands of teachers join the Workload Challenge
The government is calling on teachers to have their say on how to reduce unnecessary and unproductive workload.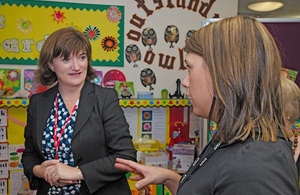 Tens of thousands of teachers have joined the Workload Challenge sharing their experiences, ideas and solutions on how to manage the teacher workload.
The challenge was launched by the Secretary of State for Education Nicky Morgan and the Deputy Prime Minister, earlier this month. So far 30,877 teachers have accessed the Workload Challenge survey and 164 teachers have emailed the department's dedicated workload solutions mailbox.
Ideas put forward by teachers so far include:
more planning, preparation and assessment time
reducing data collection requirements
clear guidance about what evidence is expected during Ofsted inspections
realistic expectations for marking pupils' work
improving IT systems and programs to make them more user-friendly and efficient
trusting staff to plan lessons effectively (unless there is evidence of an issue with planning)
short, effective meetings and fewer of them
The Secretary of State for Education Nicky Morgan said:
Thank you to the tens of thousands of teachers who have already completed the survey or emailed us with their ideas and experiences.

We want teachers to tell us about what helps them to manage their workload, what they think wastes time, and what the government, schools and others should be doing to reduce unnecessary and unproductive workload.

As a result of our programme of talks with teacher unions, we are already addressing the misconceptions that have previously added to teachers' workload. Last month's publication by Ofsted comes out of this work, helpfully dispelling myths about the requirements of inspection. But now we're going further. We're calling on teachers to let us know about their own experiences, ideas and solutions.

Once teachers have had their say, we will take action. The results will be considered by me, Minister David Laws and a new sector challenge panel made up of teachers and school leaders. Together we will agree a plan of action which we will publish in the New Year.
Minister of State for Schools David Laws said:
Day in, day out, teachers across the country are working phenomenally hard to help children reach their full potential.

We want teaching to be a rewarding and fulfilling profession. But we know that too often, precious time is taken up with unnecessary tasks that are of little benefit to teachers or pupils.

We want to work with the whole of the teaching profession to see what we can do to reduce this burden.
The call for views closes on 21 November 2014. To take part in the Workload Challenge, fill in this survey or email us. More information is available at www.tes.co.uk/dfe.
Published 6 November 2014