The NDA marks its 10th anniversary this year. In that time, we have developed a detailed understanding of the UK's nuclear legacy.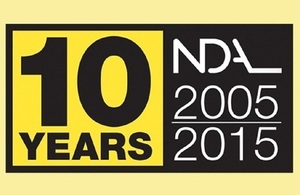 We established a strategy that achieves progress while ensuring an acceptable cost for taxpayers.
Our understanding of what is needed continues to grow and we continue to allocate our money to best effect. In the early years, our focus was on understanding the scope of the mission and how best to secure progress. Since then, the NDA has developed into a unique and knowledgeable organisation. We harness the right skills and expertise to make an important contribution to the decommissioning landscape.
Insight into 10 years of nuclear decommissioning (PDF, 1.33 MB, 16 pages)
Progress by numbers
17 sites, 18,000 directly employed workforce and 4000 supply companies
more than £10 billion of income from the sale of land and other assets, electricity generation and reprocessing
overhead expenditure in the estate reduced by more than 25%, a saving of £450 million
23% of expenditure now delivered by Small and Medium-sized Enterprises (SME)
savings of more than £195 million over last five years from collaborative procurement across the estate.
more than £70 million directly invested in R&D
95.6% complete Magnox reprocessing
25% of land at Harwell delicensed and available for development
over 200 nuclear graduates have been through the programme since it started in 2008
1,100 apprentices across the estate since 2005
£15 million saved through Asset Transfer Scheme
Published 30 June 2015