World news story
Celebrating ten years of excellent UK-Lebanese co-operation
Defence team organised the first Lebanese Armed Forces-UK Alumni reception at Yarze Officer's Club.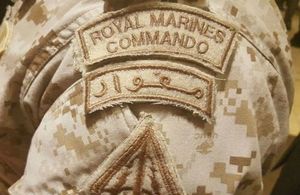 It is said that the first into battle wears the most armour, and this could not be truer about the men and women of the Lebanese armed forces wearing the armour of courage and resilience in defending their country. Marking ten years of excellent UK – Lebanese military co-operation that saw over 150 officers trained in UK military academies, the first Lebanese Armed Forces (LAF)-UK Alumni reception was held at Yarze Officer's Club at the invitation of the Defence section of the British embassy.
Lebanese officers of all ranks between 2006-2016 attended staff colleges and military academies including Sandhurst, Limpston Warminster, Dartmouth and many others, often graduating with distinctions and awards, such as the Sword of Honour, awarded to only the best overseas student and marking out the Lebanese officers as a cut above the rest.
Attended by Rear Admiral Simon Ancona the Assistant Chief of Defence Staff, Brigadier General Elie Zrour, General Claude El-Hayek, Admiral Joseph Ghodban, Defence Attaché Chris Gunning and Ambassador Hugo Shorter, the event was an opportunity to thank the LAF for their resilience and courage amidst mounting threats and for their superb performance in their UK military training.
Admiral Ancona, ACDS (DE) following the LAF Alumni reception said:
The Lebanese army saves the day with leadership, and courage. You are the only nation to have successfully repelled an invasion by Daesh. We cannot be more proud of our work in Lebanon and our excellent partnership with the LAF who are amongst the finest soldiers in the world; they are now regularly appearing at the top of their classes at Sandhurst, Lympstone, Cranwell, and more. But what is most impressive is how the training is being used to change directly the outcome on the ground. In the fight against terrorism, British training is helping those at the cutting edge of LAF operations. Today we have witnessed the start of the Lebanese – UK LAF alumni association. It is a great privilege to be attending the reception and to meet formidable officers who do Lebanon proud.
Published 23 November 2016