Ten years in jail for immigration fraudster
A Hounslow man was today jailed following a UK Border Agency investigation which revealed he set up bogus companies to allow immigrants to extend their visas.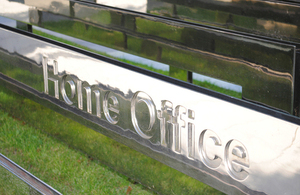 Forty-two-year-old Indian national Kaseepathi Koka had earlier admitted charges of fraud, money laundering, conspiring to pervert the course of justice and illegally providing immigration advice during a hearing at Isleworth Crown Court.
His 39-year-old wife, Ajitha, admitted conspiring to pervert the course of justice, and was given a nine month sentence.
A third defendant, Tirunagaraja Prasad Thalla, 32, also of Livingstone Road, admitted a money laundering offence and was jailed for nine months.
Action will be taken to deport all three of them at the end of their sentences.
Bogus companies
The Kokas were involved in setting up a number of bogus companies for which the main purpose was to allow immigrants to extend their visas.
The companies would supply wage slips and transfer temporary 'incomes' to applicants' bank accounts to make it look like they had highly-skilled and well-paid jobs when they applied for a visa extension. The money would subsequently be paid back through bank accounts run by Thalla.
Kaseepathi Koka also supplied forged bank statements and would complete immigration applications on behalf of his clients, despite not being qualified or registered to do so.
The trio were thought to be making approximately £250,000 per year from the scam.
One hundred immigrants assisted
In all, it is thought the gang assisted around 100 immigrants to stay in the country. Those individuals now face removal from the UK.
Robert Coxhead, the senior officer on the West London immigration crime team, said: 'This was a sophisticated criminal enterprise, which had the explicit aim of helping those who had no right to be in the UK evade immigration controls.
'The sentences handed down today show just how seriously the courts take such offences.
'As this case shows, illegal immigration can be big business. But I hope this sends out a message that we are committed to tackling the criminal groups behind it, putting the ringleaders before the courts, and, ultimately, behind bars.
'We will also now begin confiscation hearings to ensure that, as well as spending time in prison, they won't benefit financially from their criminality.'
Three other men who were involved in the scam had previously pleaded guilty to fraud charges at a hearing in June. They were all jailed and subsequently deported back to India.
Published 14 September 2010