Ten out of ten for Garrison FM
Garrison Radio has celebrated its tenth birthday by extending its coverage to a tenth location especially for families whose loved ones are serving in Afghanistan.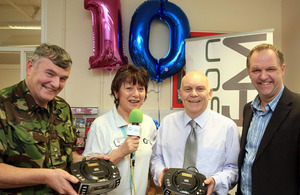 Woodbridge, the home to 23 Engineer Regiment (Air Assault) in Suffolk, is now being served with its own medium wave relay of the Garrison FM service, following a network broadcast from its new welfare facility at Rock Barracks.
Commanding Officer Rear Party, Lieutenant Colonel Peter Brown, performed the official radio switch on as well as opening the new facility, and said about Woodbridge:
You can't get a better location in Britain as far as we're concerned here; the wildlife, the countryside is absolutely super and I think the soldiers love it.
The whole camp's a new-build, we've only been here since 2006 so everything is new. The building we're in at the moment has been constructed by the soldiers themselves as a project as part of our pre-deployment training.
This was a derelict building before and I think you can agree it's a tremendous facility. Everything here is modern and new, a nice barracks to be in.
Garrison FM Managing Director Mark Page says using existing resources is the key:
We have been looking at ways of extending the service and looking at maximising what resources we have available. Woodbridge will be served by the existing Colchester station and will also broadcast on 1287AM with nearby Wattisham station.
I am also pleased that Garrison Radio is now in ten locations in its tenth year of broadcasting. Combined with some excellent listening figures, in what has become an increasingly busy marketplace, Garrison Radio is able to super-serve today's Army family with FM and AM still at the core, with increasing demand for the successful digital outlets such as online listening and smartphone apps.
Published 22 February 2011