World news story
Temporary visa application service in Male', Maldives
UK visa applicants in the Maldives will be able to apply for UK visas in Male' at a temporary Visa Application Centre on 26th Aug. 2015.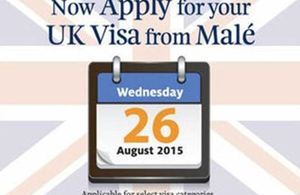 The temporary VAC (based in the Ministry of Foreign Affairs, Male) will allow applicants for student and visit visa routes to submit their forms and documents.
Nick Crouch, Regional Director for UK Visas & Immigration for South and Southeast Asia said:
"This year we are again opening a temporary visa application centre in August to make it easier for students from the Maldives to apply for a UK visa. This is part of our aim to make the visa application process as straightforward as possible for top quality students. Thanks to this service, students preparing to travel to the UK will have one less thing to worry about."
Applicants using the temporary VAC will follow the normal application process by submitting their forms, paying for their visas and booking their appointments at the visa application centre online via the visa4uk website. Their documents will then be returned to them via courier post. Customers will need to pay a fee of £170 on top of the cost of the visa to use this facility. The fee must be paid in advance via the VFS Global shopping cart.
See also UK's annual temporary visa service in the Maldives will operate on 26 August 2015
Published 17 August 2015