Press release
Temporary link road opens at Catthorpe Interchange, Leicestershire
Drivers will enjoy smoother, more reliable journeys from 8am on Saturday 13 February when a new temporary link road connecting the M6 to the A14 eastbound opens as part of the M1 junction 19 Catthorpe improvement scheme.
This news article was withdrawn on
This document is no longer current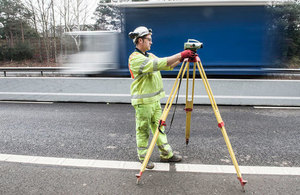 The one lane, temporary link road gives drivers travelling from the M6 to the A14 eastbound direct access without travelling through the 'dumbbell' roundabouts – removing a historic bottleneck of congestion.
Ivan Marriott, Highways England project manager, said:
We've been working hard to put this temporary link road in place so that we can provide drivers with the benefits of a direct M6 to A14 eastbound connection as soon as possible, ahead of the permanent two-lane link road opening later this year.

As this is a significant change in the way drivers use the junction, I'd like to urge drivers to observe signs, get in lane when instructed and drive carefully as they get used to the new layout.
Lane priorities will change when the temporary link road opens, so that:
lanes 1 and 2 of the M6 will join the M1 south
lane 3 of the M6 will continue eastbound to join the A14
On the same date, the slip road to access local roads will be closed and drivers on the M6 eastbound will be directed to junction 1 on the M6 to continue their journeys.
For safety reasons, speed restrictions of 50mph on the M6-A14 eastbound will continue while construction of the final improvements is under way.
An overnight closure of the A14 eastbound at Catthorpe Interchange and the M6 southbound from junction 1 will take place from 9pm on Friday 12 February to enable traffic to be switched onto the temporary link road at 8am on Saturday 13 February. Diversions will be clearly signposted.
Drivers can keep up-to-date with closures and follow scheme progress on the scheme's Facebook page.
General enquiries
Members of the public should contact the Highways England customer contact centre on 0300 123 5000.
Media enquiries
Journalists should contact the Highways England press office on 0844 693 1448 and use the menu to speak to the most appropriate press officer.
Published 12 February 2016