World news story
Temporary job vacancy: LEI Senior Financial Officer, EU and Economic Section
This was published under the 2010 to 2015 Conservative and Liberal Democrat coalition government
The British Embassy in Rome is recruiting a senior locally-engaged officer (grade LEI) on a temporary contract ending March 2015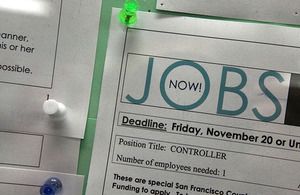 The British Embassy in Rome is recruiting a senior locally-engaged officer (grade LEI) on a temporary contract ending March 2015, to lead on financial services issues and to contribute to the Embassy's wider economic reporting. The contract may be extended subject to availability of funds and will be reviewed in March 2015.
The successful candidate will work in the EU and Economics Section working closely with Embassy colleagues, and the Ambassador and Deputy Ambassador. He/she will be expected to interact in a credible way with senior contacts in Government, the Bank of Italy, the finance sector, academia / think-tanks, and the media. He/she will also support initiatives to promote the UK's financial services sector in Italy.
Our preferred candidate would be an EU national with significant experience in the financial services sector. Confirmation of eligibility for other nationalities on request. The successful candidate should be able to start as soon as possible in October 2013.
Description of job, duties and responsibilities
The LE I Senior Financial Officer post offers the opportunity to work in a senior role in one of the UK's key European Embassies. The incumbent will be responsible for representing the UK's position and delivering reporting on a range of financial and economic issues which are fundamental for the UK's national interest and for its role in Europe and globally.
The most important issues will be around international / EU financial sector regulatory proposals and the measures to address the Eurozone crisis with particular focus on the proposals for banking union and greater fiscal and economic union. This will demand rapid, insightful, succinct reporting and analysis of the positions of key Italian players. Technical knowledge will be essential. Excellent communication skills, especially written English, will also be a core requirement.
Networking and relationship management will be essential skills. The successful candidate will need to develop and extend existing contacts, and maintain a wide network in Rome and Milan. He/she will need to build relationships across a range of London stakeholders: HM Treasury; the Bank of England; UK regulators; our Business Ministry; and the Foreign and Commonwealth Office (FCO). He/she will also need to work closely with colleagues in the Italy network, especially the EU and Economic Team in Rome and the Trade and Investment Team in Milan.
The role will demand flexibility, initiative, and adaptability to changing UK priorities. This will require juggling short-term priorities while making progress on longer term goals. Experience of programme and project management and event delivery would be an asset.
Key skills
The ideal candidate will have:
Significant experience in the financial services sector, either in the private sector working on regulatory issues for a bank, think-tank, or industry body, or in a relevant national institution (Treasury, Bank of Italy, Consob, etc).

A graduate-level qualification in economics or a related discipline would be desirable. Alternatively candidates should be able to demonstrate a detailed understanding of current economic trends and issues.

Ability to demonstrate a track-record of successful delivery in their previous employment.

Proficiency in English and Italian (minimum C1 on the Common European Framework of Reference for Languages), and ability to communicate effectively and concisely to senior audiences in either language, both orally and in writing. This will be tested during the selection process.
Terms and Conditions
The position is at grade LEI level. The grades for locally engaged staff are LE(D), LEI(S), LEI, LEII, LEIII, LEIV and LEV. LE(D) being the highest.

The contract is for approximately 18 months with a possibility of renewal dependent upon continued UK funding, and future requirement for the work undertaken.

The annual gross starting salary is in the region of €40,000, negotiable depending upon experience.

Salary is paid monthly with second salary payments in December and June, giving 14 salary payments per year including €10.33 EDR which is paid 13 times per year.

Working hours are 35 per week, Monday to Friday 09:00-17:00 (with one hour lunch break). Some degree of flexibility is expected.

The job is based in Rome, with occasional travel to Milan and UK.

Confirmation of appointment is subject to security clearance and the satisfactory completion of a three-month probation period.

Income tax arrangements will depend on nationality, income tax (IRPEF) at rates set by the Italian government is withheld from gross salary.

The successful candidate will be enrolled in the Italian State Social Security scheme (INPS).

Terminal Gratuity Payments (TFR) are made in line with the relevant Italian legislation.

Staff recruited locally by the British Embassy Rome are subject to terms and conditions of service according to local Italian employment law. Applications

Applications should include a CV in English and a letter explaining the interest in the job and the qualities the candidate will bring. Copies of the letter should be submitted in both English and Italian.

Applications should be sent by email to the following address ItalvJobAds@fco.gov.uk. Please note that it is essential to quote "LEI Senior Financial Officer" and your surname in the subject line.

The closing date for applications is 15 September. Applications received beyond this date will not be considered. Please note that only applicants selected for interview will be contacted.

Interviews will be held in Rome during the last week in September.

Candidates will be asked to take a written test as part of the interview.
The FCO and its Embassies overseas is an equal opportunities employer and welcomes applications from all suitably qualified people regardless of gender, marital status, race, disability, age or sexual orientation.
Document information
Published: 2 September 2013