World news story
Temporary job vacancy in Milan
A temporary job will arise in May 2013 at the British Consulate-General in Milan for the post of LEIV Consular Assistant.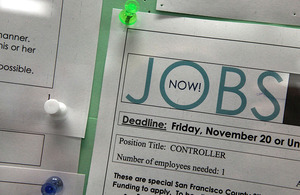 The temporary position is to ensure adequate cover within the Milan Consular Team during the summer busy period. The expected duration of this temporary job is 6 months, from May to October 2013.
Main purpose of the job
The role of the Consular Assistant is to support the Consular team in Milan in delivering their objectives.
Duties and responsibilities
Provide first rate administrative support to the Consular team, including the collation and verification of information, filing, photocopying and preparation of courier post. Attend to British Citizens in person, by telephone and by email. Liaise with local authorities. Process marriage work and liaise with individuals and wedding planners.
Skills required
The ideal applicant will have the following skills and experience:
Proven experience in administration work;
Ability to work in a target driven and very organised team environment;
Ability to work under pressure and meet deadlines;
Accuracy and attention to detail is vital;
Great interpersonal skills and experience of front-line customer service;
Fluency in English and Italian, both written and oral;
IT skills with a strong working knowledge of MS Windows and Office suite.
Terms and conditions
The position is at LEIV level in a range from I to V, I being the highest.
The appointment is subject to security clearance and the successful completion of a two month probationary period.
Working hours are 35 per week, from 09.00-17.00 Monday to Friday though some flexibility will be expected.
Salary: Euros €1,723.76 gross per month. The salary is paid monthly 14 times per year including €10.33 EDR paid 13 times per year.
Income Tax: Tax arrangements will depend on your nationality.
Social Security: the successful candidate will be enrolled in the Italian State Social Security Scheme.
Applications
Applications must include a covering letter and CV in English for native Italian speakers, in Italian for native English speakers. Applications should be sent by 10th April to the following e-mail address: ItalyJobAds@fco.gov.uk quoting "LEIV Consular Assistant and applicant's surname" in the email subject line.
Applications submitted beyond the deadline will not be considered. Replies will be sent to short– listed candidates only.
Short-listed candidates will be invited to attend an interview in Milan in week commencing 15 April.
Those not contacted by then, should assume their application has not been successful.
The FCO and its Embassies overseas is an equal opportunities employer and welcome applications from all suitably qualified people regardless of gender, marital status, race, disability, age or sexual orientation.
Published 27 March 2013