World news story
Temporary job vacancy
We are looking for a Customer Experience Analyst for the British Consular Network in Southern Europe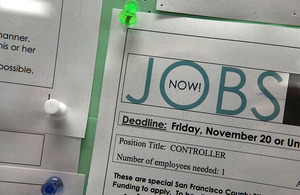 Consular work is the busy and challenging front-line of the Foreign Office, and southern Europe is the flagship Consular network handling 32% of all assistance work and 50% of all emergency travel documents. The Network receives thousands of requests for assistance every month. These can be anything from a simple enquiry to a tragic assistance case, from a lost passport to a missing person, from a visa applicant concerned about their appointment time, to a local authority requesting information from the British authorities. As a customer-orientated team, we are dedicated to providing the best service possible, even when we're giving difficult messages that people don't want to hear.
The Consular Network is known for its innovative approach to the delivery of Consular Services and we are looking to recruit a dynamic and dedicated individual, responsible for capturing, analysing and recommending all feedback and suggestions from our customers. This feedback should be captured from all service entry points, including digital. Once analysed, customer experiences and suggestions will help shape our service delivery and allow our Consular posts to ensure that customer delivery is professional, timely and relevant. The role will also focus on responding to network customer complaints and suggestions. Duties and responsibilities
The job will involve:
Designing and developing a feedback model for our customers to share their experiences after receiving one of our services. Responsibility for contacting customers directly, receiving feedback on services received and provided detailed analysis with recommendations for post and network. This analysis will help shape our service delivery across southern Europe.
Acting as the sole point of contact for customer complaints for the Southern European network, responding to and providing focused replies to our customers. Using valid complaints to help develop our frontline operation.
Ensuring we are up to date with what our customers are saying online. This will mean monitoring and responding to incorrect customer messaging. A key part of this will be building on our current community databases and ensuring key messages cascaded via digital communities.
Adhering to FCO policy on data protection and Consular guidance to ensure we deliver a professional and consistent service.
Supporting the Digital & Communications team in developing innovative customer feedback mechanisms in the move towards 'Digital by Default' strategy.
Working closely with London colleagues to continue development of global feedback product to our posts across the globe.
Working with our Prevention and communications team providing detailed analysis of trends or patterns in service gaps following solicited feedback.
Key skills
Proven experience of initiating and leading high profile Customer Experience programmes is essential to this position. In addition, the candidate must have excellent knowledge of Consular assistance work. Other requirements include:
Excellent customer focus and good interpersonal skills, especially a good/clear telephone manner.
You should have excellent data analyst skills and be able to present clear, detailed recommendations for improvement to managers and stakeholders in the network.
The ability to work independently and be comfortable working with tight deadlines.
You should have previous experience in a customer facing role, working with a wide range of customers.
Confidence working with stakeholders at all levels.
Innovative and with a passion to consistently deliver high quality work.
Language skills: fluent written and spoken English (mother tongue level).
Terms and Conditions
This is a one year contract subject to security clearance and successful completion of a three month probationary period.
The location for this position is in one of the following Consulates and we will accept applications for one or all: Barcelona, Madrid, Las Palmas (Gran Canaria), Tenerife, Portimao (Portugal) or Rome.
The start date for this position is April 2013.
Working hours are 35 per week, Monday to Friday. Some degree of flexibility is expected.
The monthly gross salary is €2,325.95 (minimum of the LEII salary scale). The salary is paid 14 times per year including €10.33 EDR paid 13 times per year.
Income tax arrangements will depend on nationality.
The successful candidate will be enrolled in the Italian Social Security Scheme.
Applications
Applicants should submit their CV and a covering letter as to why you think you are perfect for the role, in English to the Human Resources Manager by e-mail indicating reference CEASEN2013 to rrhh@fco.gov.uk by 25th March.
Short-listed candidates will be invited to attend an interview in Madrid week commencing 8th April.
We regret that we will not be able to reply to all applicants personally. Those not contacted by the 4th April should assume their application has not been successful. For further information on the work of the British Embassy and the British Consulate please see the UKinSpain, UKinPortugal, UKinItaly and UKinMalta websites.
The FCO and its Network overseas is an equal opportunities employer and welcomes applications from all suitable qualified people regardless of gender, marital status, race, disability, age or sexual orientation.
Published 21 March 2013