Technology: UK to help millions through mobiles and internet
Britain will give millions of people the power to hold their government to account and improve their lives with mobile technology.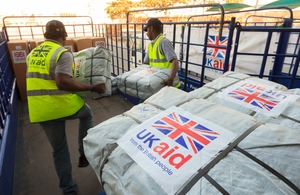 International Development Secretary Justine Greening made the pledge today at the Open Up! Conference in London's tech city, co-hosted with Omidyar Network.
Speaking at the conference she set out how Britain will help 6 million of the world's poorest people to benefit from innovative projects across Africa and Asia.
Video: Justine Greening's speech to the Open Up! conference
She is also committing to use mobile and internet technology to make governments more effective and transparent and help the poorest to have a say in the future of aid.
There are now over 5 billion mobile connections in the developing world, increasing by 18 per second. At the same time, the United Nations estimates that 80 million people have no access to an electrical grid but do use a mobile phone.
International Development Secretary Justine Greening said:
"With more than a thousand new mobile connections every minute in the developing world, we have a tremendous opportunity to ensure the voices of the poorest are heard. Mobile and web technology has the power to transform lives and improve the way governments work, but too often it has been overlooked.
"I am determined to use Britain's aid to help citizens have a say in their future, speak up when they face crime or incompetence and make it easier to trade and grow businesses."
Britain will promote mobile and internet technology by:
Helping the poorest to decide their future: Working with the United Nations, mobile technology company Kirusa and others, DFID will support MyWorld - a mobile survey to allow at least two million in the poorest countries to have a direct say in the future of international aid through their mobile phones.
Making aid more transparent: Britain will launch a new Open Aid Information Platform to allow anyone to trace spending from Whitehall down to specific aid projects on the ground across the developing world.
Helping poor countries to harness the power of the internet: Working with Sir Tim Berners-Lee's World Wide Web Foundation, Britain will help to close the 'digital divide' by researching internet use in poor countries and provide a solid evidence base to find new ways to use the power of the web to improve the lives of the poorest.
Kick-starting innovative new tech ideas: Britain will launch a new partnership to help six million people in the poorest countries to benefit from new technology. Making All Voices Count is collaboration between DFID, Omidyar Network, USAID and the Swedish Government to spot innovative ideas and make them work. All software devised through this programme will be open source, allowing others to use and adapt it as necessary.
Fight corruption and improve services: Britain will help the people of Pakistan to report poor performing or corrupt local officials direct to senior Ministers through their mobile phones. Every citizen who contacts the Punjab province's local government, tax office, police, health or education services will receive free automated calls or text messages where they can report if they were forced to pay a bribe or experienced bad customer service. During a three-year pilot, several corrupt officials were suspended or sacked.
The UK and Indonesia are currently co-chairs of the Open Government Partnership, a global effort to make governments more transparent, effective and accountable. Through the partnership, the UK encourages governments across the world join and demonstrate their commitment to open government and transparency, with institutions that empower citizens and are responsive to their aspirations.
Omidyar Network Partner Stephen King said:
"Responsive and accountable government requires openness and an engaged citizenry. Open Up! will showcase the technology tools that foster transparency and also share the experiences of leading social entrepreneurs who are doing the hard, day-to-day work to bring governments and citizens closer together.
"The conversations that begin today are meant to encourage greater collaboration, inspire new innovations, and accelerate the pace of the open government movement. At stake are greater accountability of government to its citizens, improved service delivery, and economic growth and prosperity."
Inventor of the World Wide Web Sir Tim Berners-Lee said:
"I am delighted that the UK government is supporting The Web Index, so that policymakers and others can come to fully understand the political, economic and social impact of the web's growth and utility on poor people and nations.
"I commend the leadership and commitment of the UK in the open data effort. Opening up data is fundamentally about more efficient use of resources and improving service delivery for citizens."
Published 13 November 2012