Technology trial a first for roads scheme
One of the UK's busiest ports is trialling the use of innovative technology to aid future maintenance.
This news article was withdrawn on
This document is no longer current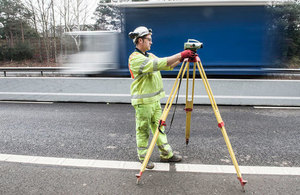 The £88.4 million project to improve access to one of the UK's busiest ports is trialling the use of innovative technology to improve the monitoring of highway equipment located along the road, such as street lighting and drainage, to aid future maintenance.
Contractors working on the A160 Port of Immingham improvement scheme are using the RedBite asset tool, developed by a Cambridge-based company, to tag Highways England owned assets. Once the product is tagged - the data is securely transmitted to a webpage where all data relating to that piece of equipment or asset is recorded for future use.
This is the first time the technology has been used on a road project. Items which have been tagged so far along the A160 include lighting columns, signs, pavements, culverts and gullies.
The technology uses Radio Frequency Identification (RFID) technology, Quick Response (QR) Codes and GPS tags.
RFID involves the use of radio waves to convert and transmit information from an RFID tag to a digital device – such as a smartphone. Alerts can also be sent out when faults are reported on any particular piece of equipment.
Ben Ridgeon, Highways England Project Manager, said:
Managing and tagging assets using intelligent software has many benefits, not only in recording the location of that equipment but, more crucially, in monitoring that asset in the future.

With such heavy usage on our assets, wear and tear is inevitable. By using a system where we can record and maintain a large amount of data on a range of different equipment, we can improve accuracy on the condition of those assets.
RedBite is a spin-out from the University of Cambridge and a member of the HyperCat Consortium.
The Port of Immingham is the UK's largest port by tonnage and handles up to 55 million tonnes of goods every year, including nearly 20 million tonnes of oil and 10 million tonnes of coal.
The Highways England scheme will see a three-mile section of the A160 between the A180 and the Port of Immingham upgraded to a dual carriageway along its entire length.
Once completed, traffic congestion will be reduced, journey times will become more reliable, and safety will be improved for road users and the local community. There will also be better access to the Port of Immingham and the surrounding area.
More details on the scheme, including a computer-generated video showing how the upgraded road will look, are available at the road project website.
General enquiries
Members of the public should contact the Highways England customer contact centre on 0300 123 5000.
Media enquiries
Journalists should contact the Highways England press office on 0844 693 1448 and use the menu to speak to the most appropriate press officer.
Published 6 April 2016