Technology: Mobile phones to increase take up of vaccines
UK aid will match Vodafone's contribution to the GAVI Alliance with a $1.5 million cash contribution to increase childhood vaccination levels in Africa.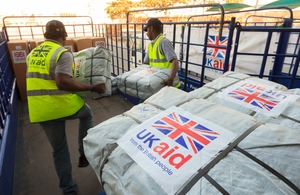 A new innovative partnership will help increase childhood vaccination levels in sub-Saharan Africa thanks to the help of mobile technology.
The collaboration between vaccine alliance GAVI and mobile group Vodafone was backed by Development Secretary Justine Greening today following its launch.
Speaking ahead of the Vodafone Mobile for Good summit Justine Greening said:
One thousand new mobile broadband connections are made every minute in the developing world, which means we have a tremendous opportunity to transform lives in an easily accessible way.

Britain is a proud partner in this innovative project from Vodafone and GAVI. Opening up healthcare to people through their mobile phones will increase the take-up of basic treatments that make a huge difference to people's lives and livelihoods.
With access to mobile phones rapidly rising in Africa, the opportunity to help healthcare providers to increase the take-up of life-saving vaccinations through mobile technology has never been better.
Effective methods include alerting mothers to the availability of vaccinations by text message, enabling health workers to access health records and schedule appointments through their phones and helping health facilities in remote locations monitor stocks to ensure that vaccinations are available when mothers and children arrive.
A three year partnership between Vodafone and GAVI will help GAVI reach its target of vaccinating an additional quarter of a billion children and averting four million future deaths by 2015. This partnership is the first private sector in-kind contribution through the GAVI Matching Fund initiative, under which the UK Government has agreed to match UK private sector contributions to GAVI.
The UK Government will match Vodafone's contribution with a $1.5 million cash contribution to GAVI. The Fund has raised $52 .4 million to date and aims to raise $260 million for immunisation by the end of 2015.
Published 10 December 2012