Press release
Tech connected
Core tech clusters and the wider community are going to be linked by a fully integrated transport network.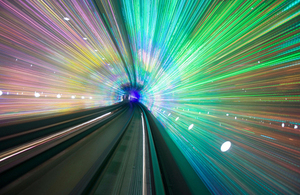 The government is supporting the UK's burgeoning high-tech industry - centred on London, Cambridge and Oxford - and that support is being facilitated by the Department for Transport (DfT) and its plans for a fully integrated transport network linking each of the 3 core tech clusters, as well as the wider tech community.
As part of this support the DfT is developing proposals for the construction of a new railway line from Bedford to Cambridge. This would build on the ongoing work on the East-West Rail project and complete the London-Cambridge-Oxford tech triangle.
Once both of these lines are completed they will allow for fast direct rail services between Cambridge and Oxford for the first time in a generation.
The government is already committed to a huge expansion of the existing railway, a £38 billion spending programme between 2014 and 2019 will improve and maintain the national network.
From 2019 the new Thameslink and Crossrail services which both depart from Farringdon will dramatically improve access from London to the other tech clusters but also to Heathrow, Gatwick and Luton airports.
In Cambridge the proposed new station at Chesterton will revolutionise access to the SciencePark and tech locations cutting journey times. In Oxford the total rebuild and expansion of the existing station and new bus station will again significantly improve access to tech locations within the city.
From 2018 the Thameslink scheme allows for direct trains between Farringdon and City Thameslink within London and Cambridge and improves service to Gatwick Airport. Once Crossrail goes live there will be even more connections across the capital and beyond.
The electrification of the Great Western Mainline which allows for the new Super Express to be operational by 2017 will reduce journey times and improve services between London to Oxford and beyond.
But much more needs to be done. The government wants to see Network Rail, train operators and the private sector work collectively to drive forward innovative investments to deliver the further improvements that are essential to maintain the UK's position in an extremely competitive international environment.
Rail media enquiries
Media enquiries 020 7944 3021
Out of hours media enquiries 020 7944 4292
Switchboard 0300 330 3000
Published 6 December 2013