News story
Team UK champions celebrate their success
Team UK on their return from WorldSkills competition in São Paulo 2015.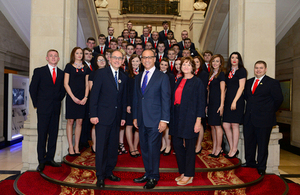 This week marked the welcome back for Team UK from WorldSkills São Paulo 2015. WorldSkills is the world's largest skills competition, which is held around the globe to celebrate skills and share best practice between industries and countries. Team UK did exceptionally well and came away with three gold, four silver and two bronze medals, together with 24 Medallions for Excellence.
Peter Lauener, WorldSkills UK Official Delegate and Chief Executive of the Skills Funding Agency and Education Funding Agency and Apprenticeship Adviser to the Prime Minister, Richard Harrington MP also attended the welcome back event to congratulate members of Team UK on their success.
Beauty therapist, Rianne Chester, received the UK's first ever Albert Vidal Award, for the most points scored by any competitor in the competition. 25 of the 40 members of Team UK are currently or formerly doing an apprenticeship and 6 out of the 9 members who were awarded medals are current or former apprentices.
Speaking at the welcome back event, Peter Lauener said: "Attending WorldSkills São Paulo 2015 was a life changing event. I was enthralled to see first-hand the energy, the endeavour and the 'never give up' spirit shown by Team UK. It was inspiring to watch and a remarkable achievement for all those that took part. My congratulations go to all the Medal winners, the Medallion winners and the entire Team UK."
For more information about WorldSkills watch the video on YouTube or visit the WorldSkills website. Photos from the competitions are available to view on Flickr.
The medal winners
Gold:
Rianne Chester from North West: beauty therapy
Edward Harringman from South East: cabinet-making
Gary Doyle from Northern Ireland: plumbing and heating
Silver:
Jonathan Gill from Northern Ireland and Matthew Beesley from North West: landscape gardening
Shayne Hadland from the South East: aircraft maintenance
Christopher Bailie from Northern Ireland: refrigeration and air-conditioning
Bronze:
Rebecca Wilson from Northern Ireland: car painting
Sam Turner from Yorkshire and the Humber: architectural stonemasonry
Published 10 September 2015