News story
Team UK announced for EuroSkills Gothenburg 2016
The UK's top apprentices have been named among the team for EuroSkills Gothenburg 2016.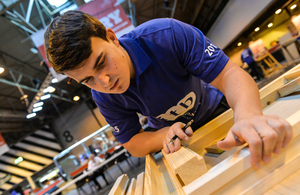 EuroSkills, taking place from 1 to 3 December, will see the most talented young people from over 30 European countries come together to compete in over 35 different skill areas. The competitors all have one aim - to win a gold medal in their chosen skill and prove they are the best in Europe.
Among those representing the UK are apprentices from a variety of sectors. They will be competing in competitions ranging from Visual Merchandising and Window Dressing to Mechatronics and Automotive Technology.
Team UK for EuroSkills Gothenburg 2016 (PDF, 197KB, 2 pages)
Skills Minister Nick Boles said:
The young people who have earned a place on Team UK are worthy ambassadors and show the great things you can achieve with high quality apprenticeships and technical training. I congratulate each and every member of Team UK and look forward to hearing about their performance at EuroSkills Gothenburg 2016.
A recent survey found that over 95% of competitors believed their technical and employability skills had improved as a result of taking part in skills competitions, while over 80% felt competing had increased their confidence, team working, time management and ability to work under pressure.
Peter Lauener, WorldSkills UK Official Delegate and Chief Executive of the Skills Funding Agency and Education Funding Agency added:
Year on year, I am constantly impressed with the quality of competitors that get through to the EuroSkills and WorldSkills competitions. They each demonstrate a huge amount of talent, a desire to succeed and a professionalism beyond their years.
These young people are fantastic ambassadors for the importance of gaining the skills that employers are calling out for. And they will all go on to build successful careers in their chosen area.
I would like to send my best wishes to every member of team UK and look forward to seeing them return from Sweden with a great haul of medals!
Dr Neil Bentley, Chief Executive, WorldSkills UK said:
Our findings have shown that skills competitions enable apprentices to develop and build on the skills that businesses are crying out for. By entering international competitions, we can benchmark the employability skills of our apprentices with those from the rest of Europe, ensuring more young people are being equipped with the right skills to help UK businesses better compete globally.
The members of Team UK were selected after excelling in the National Finals of the WorldSkills UK Competitions. Members of Team UK will now go on to complete an intensive training programme, supported by their trainers, employers and training providers.
The competitors who take part in EuroSkills this year will also go onto compete for a place in the team that will represent the UK at WorldSkills, the largest international skills competition, which takes place every 2 years. The next WorldSkills Competition will take place in Abu Dhabi from 14 to 19 October, 2017.
For further information visit the WorldSkills UK website.
Published 9 May 2016