Press release
Teaching assistant standards review: call for evidence launched
A range of views are being sought to support the development of a new set of professional standards for teaching assistants.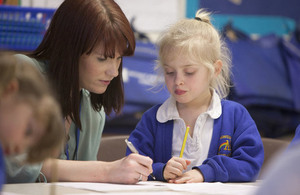 Teaching professionals, unions, parents and others are from today (28 October 2014) being invited to give their views as part of a nationwide review to create a new set of professional standards for teaching assistants.
Earlier this month a review was launched aimed at replacing the current set of teaching assistant standards with a clearer and more concise version, reflecting the diversity of the existing schools system.
The review, chaired by Kate Dethridge, Principal of Churchend Primary Academy, Reading, will be supported by a panel of experts with a diverse range of expertise. To help the panel develop the new standards, a call for evidence has been launched today inviting headteachers, school governors, teachers, teaching assistants, union representatives, local authorities, parents and other interested parties to submit their views.
Responses will be accepted until November 21 and can be completed online.
The review is expected to report back to the Secretary of State for Education in spring 2015.
DfE enquiries
Central newsdesk 020 7783 8300
General enquiries 0370 000 2288
Notes to editors
Developing a new set of standards for teaching assistants consultation is open until 21 November 2014.
Published 28 October 2014