Teaching Agency to be up and running from April 2012
New Teaching Agency to ensure supply of high quality teachers and training.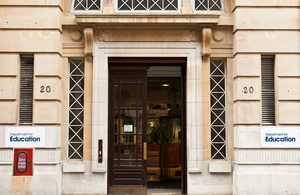 The Teaching Agency is a new executive agency that will be responsible for ensuring the supply of high quality teachers and training, and for teacher regulation. It will open in April 2012 and take on some key functions currently carried out by the Training and Development Agency for Schools, General Teaching Council for England, Children's Workforce Development Council and the Qualifications and Curriculum Development Agency subject to the necessary parliamentary approvals..
The agency will support teachers, instructors, early years' workers, classroom-based support staff, SENCOs, educational psychologists and examination officers.
Subject to parliamentary approval of related legislation, the Teaching Agency will be responsible for three key areas of delivery
supply and retention of the workforce
the quality of the workforce
regulation of teacher conduct.
Further information about the Arms Length Bodies reform.
DfE enquiries
Central newsdesk - for journalists 020 7783 8300
General enquiries - for members of the public 0370 000 2288
Published 17 June 2011