World news story
Teachers and students took part of 'English Week' in Buenos Aires
During the programme schools and organisations from across the country held workshops and competitions with the help of experts from the UK.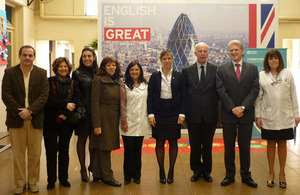 From 23 to 27 September, schools and other teaching institutions from across the country celebrated English Week, a programme of activities co-ordinated by the British Embassy which included courses and seminars designed to promote the English language as a communication tool and as a gateway to other cultures.
The programme included presentations by British experts like Pamela Wright, Headmistress of Wade Deacon School -which won an award for achieving the best grades in the country- who gave a seminar on management for school principals; and Helen Ashton, a British expert on pronunciation, who conducted workshops for actors, actresses and drama teachers in Córdoba and Buenos Aires.
The British Council presented their Connecting Classrooms programme and the English Speaking Union joined the programme by staging a public speaking class. Schools from Buenos Aires and other provinces like Salta held special classes and organised competitions.
During the cocktail party held as part of the conference by the Argentine Federation of English Teachers, which served as a closing event, British Ambassador John Freeman thanked all those involved for their participation and highlighted that English Week had been "a week to celebrate the English language and the long-standing educational links between Argentina and the UK".
English is GREAT flashmob at FAAPI 2013 (APIBA)
For more information:
Published 4 October 2013