Teabags or travel insurance?
The Foreign Office urges travellers to reassess their priorities when visiting friends and family overseas as packing items such as teabags are considered before taking out travel insurance.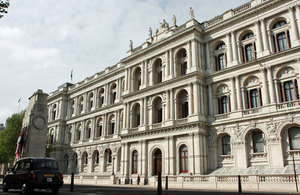 Over 12 million British nationals are planning to visit friends and family abroad this year. New research published today by the Foreign and Commonwealth Office shows that:
Nearly half of young people did not take out travel insurance the last time they stayed with family and friends
39% of people visiting friends and relatives in Africa did not take out travel insurance on their last trip
When staying with friends and family in South Asia, less than half (48%) took out travel insurance.
Minister for Consular Affairs Jeremy Browne said:
"With over 5 million Britons living abroad, people are increasingly making the most of opportunities to visit their loved ones across the world. However, it's important to understand that staying in someone's home does not make you exempt from encountering serious problems. Take the same steps before you go as you would for any other holiday, such as taking out travel insurance and doing some pre-trip research, to ensure you are prepared if something does go wrong."
Despite the belief that they don't have to prepare for a holiday when visiting friends and family, 39% of British nationals have ended up relying on their host when things have gone wrong during their trip. British expats hosting visitors have to deal with a range of problems from taking their guests to hospital when they fall ill to providing financial help.
Dean Churm, British Consul for Florida, said:
"What would your host appreciate more? A box of teabags or dealing with a hefty medical bill because you had an accident and were not insured? Getting comprehensive travel insurance means that whilst an accident may disrupt your holiday, it won't bankrupt you in extortionate medical or repatriation bills"
Keeping the costs of a trip as low as possible is often a top priority when planning to visit friends and family who live abroad. However, attempting to save money by not taking out travel insurance can be a false economy when faced with the high costs of medical treatment or the loss of valuable possessions.
The FCO is urging people to prepare for a trip to visit loved ones in the same way as they would for any other holiday to limit serious problems occurring when overseas.
It's risky to travel without insurance - even losing your baggage could leave you out of pocket unless you are covered.
And it's not just insurance that people are forgetting about, what about the health precautions? Phil Lord, from the FCO's Know Before You Go campaign, said:
"It's easy to think that travel preparation advice does not apply to you if you're visiting a familiar destination but knowing a country well does not make you exempt from encountering problems. If you're visiting a malaria hotspot make sure you have taken preventative measures and don't assume you're immune. Far better to be prepared so you can avoid any nasty surprises and focus on enjoying your time with loved ones."
Published 1 June 2011