World news story
TCI to lead efficient government and investment session
Deputy Governor Anya Williams will lead a workshop at UK Overseas Territory heads of public service conference in London next week.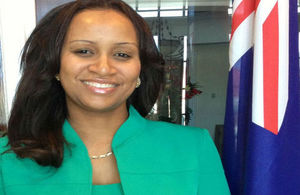 The most senior civil servants from each Territory will gather together in the Foreign and Commonwealth Office in Whitehall to discuss how they can better work together to improve public services on the 7-8 October 2013.
Mrs Williams will lead a workshop on 'Efficient Government and Investment Policy', with her opposite number, Ernesto Gomez, from Gibraltar, with additional inputs from UK government department, Business Innovation and Skills.
"This is one of the most important UK Overeat Territories events of the year," said Anya Williams. "It is an opportunity to learn from fellow professional people who understand the challenges that are faced in small, and sometimes remote communities.
"We can learn from each other and establish important contacts across the world who can help us achieve what we need to do here," she said. "It is also an honour to receive international recognition by way of sharing our story here in the Turks and Caicos about where we are in our ongoing journey toward improving efficiency."
All the heads will be welcomed by Peter Hayes who heads the FCO Overseas Territories Directorate. The other session on the agenda over the two days includes:
Public Communications: how to ensure that the work of government is communicated effectively to the public led, by British Virgin Islands and the FCO press office.

Public Service Reform: a report on progress of Civil Service reform programmes led by personnel from the Cayman Islands, with participation from the Isle of Man and UK Cabinet Office.

Adoption of international governance standards: a discussion on progress and practicalities of extension of conventions, obstacles and priorities, led by Anguilla with support from FCO legal advisers, the Ministry of Justice and Business Industry and Skills

Public finances: looking at how to ensure transparency and sustainability of public finances in the Territories, jointly led by Anguilla and the Falkland Islands as well as participation from officials in Guernsey and the UK National Audit Office

Ensuring integrity in public life: a discussion on processes for ensuring the integrity of all those in elected and non-elected public office. Particular emphasis on introducing and implementing codes of conduct. This will be led by officials from Gibraltar and the British Virgin Islands, as well as the Isle of Man and UK Cabinet Office.

Professional development: how to get the best out of all staff, with a particular emphasis on performance management, led by Bermuda, Montserrat and staff from the UK Cabinet Office.

Using e-government for service delivery: how innovation can be used to improve public services through e-government platforms, led by Montserrat, with the UK's Government Digital Service and the Commonwealth Telecoms Organisation

Procurement: how efficient procurement procedures can ensure value for public money, in the context of a challenging economic climate and small communities led by Ascension and Cayman.

Secondments: a discussion on the effectiveness of Jubilee Programme secondments and exchanges so far.
There will also be an opportunity for all participants to network with representatives from other UK Ministries and government departments.
Attorney General Huw Shepherd will be sworn in as Acting Governor for the period 4-9 October, until Governor designate Peter Beckingham officially takes the Oath of Allegiance.
Published 3 October 2013