World news story
TCI signs up to international convention on tax transparency
Turks and Caicos Islands to sign Convention on Mutual Administrative Assistance in Tax Matters on 1 December, Council of Europe confirms.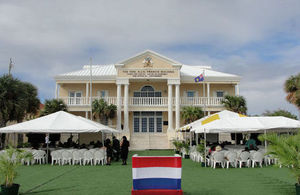 TCI committed to joining the Convention in the run-up to this year's G8 meeting, chaired by the UK, which focused on improving tax transparency internationally. In doing so TCI joined other UK Overseas Territories in being jointly determined to shake off their out of date and inaccurate tax haven reputation.
The Convention sets standards for the exchange of tax information between signatory states that will make it easier for illegal tax evasion to be detected and prevented. It is a joint venture between the Organisation for Economic Co-operation and Development (OECD) and the Council of Europe.
"As the lead on the OECD's Global Forum issues in the Islands, I am very pleased with this development which once again demonstrates the Turks and Caicos Islands' commitment to working with the international community to apply international standard of financial transparency," said TCI Acting Attorney General, Ms Rhondalee Knowles. "Becoming a signatory to the Convention will enhance the attractiveness of the Turks and Caicos Islands as a fully compliant, well-respected and regulated jurisdiction in which to conduct financial business."
Commenting on the news, Premier Dr Rufus Ewing, added, "As Premier of the Turks and Caicos Islands, I am pleased that we are to be a part of the Multilateral Convention on Mutual Administrative Assistance in Tax Matters, an OECD and Council of Europe initiative that was once only restricted to its members. This demonstrates our continuing commitment to achieving the highest international standards of tax transparency."
The news on the extension of the Convention comes less than a week after Cabinet agreed the text of an 'Action Plan to prevent the Misuse of Companies and Legal Arrangements.' The action plan, another G8 commitment, details how TCI will join the international community in making it easier to identify the beneficial owners of companies in an effort to achieve greater tax transparency in all jurisdictions.
Published 29 August 2013