World news story
TCI and Bahamas agree new action to curb illegal migration
The Governments of TCI and the Bahamas have agreed new action to combat illegal immigration, drug smuggling and illegal fishing.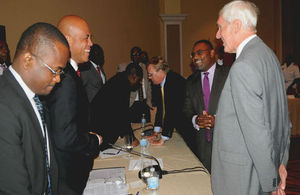 During talks in Nassau between the 28th and 29th July, Governor Peter Beckingham and the Minister for Border Control Ricardo Don Hue Gardiner met with the President of Haiti, the Prime Minister of the Commonwealth of the Bahamas and other Ministers and officials.
The Governments noted and discussed the range of common issues they shared involving illegal migration in the region. They agreed to work more closely together to combat illegal activity in the region. This will include:
Greater information and intelligence sharing;
Placement of defence or police forces on each others' vessels, and the operation of vessels in each others' countries, including to interdict illegal migration, drugs and illegal fishing; and
Expert training of staff in interdiction methods.
The Governments also agreed that officials from the Ministry and Foreign Affairs and the Royal Bahamas Defence Forces, and the Turks and Caicos Ministry of Border Control, the Police Force and the Governor's Office should consider the possibility of formalising these areas of co-operation in a short Memorandum of Understanding.
On his return to TCI, Governor Beckingham welcomed the positive nature of the talks:
I am delighted that we had such constructive talks at the invitation of the Bahamian Prime Minister. There was a real willingness on the Bahamian side to consider the value of intelligence sharing as well as the possibility of our defence and police forces operating more closely together.

These discussions will not bring to an instant halt the risks of illegal migration, but they were serious and positive steps to create a better and more efficient environment for handling the problem.

I was also encouraged by the openness of President Martelly to consider formalising an agreement between our two countries which would benefit TCI as it deals with the continuing problems of illegal migration from Haiti.
Minister of Border Control and Labour, Honourable Ricardo Don Hue Gardiner, said:
Strengthening and deepening our regional partnerships can play a major role in reducing illegal migration to the archipelagos of the Bahamas and Turks and Caicos Islands. Therefore, it is important that we continue to have constructive engagement to ensure that the primary objective of improved border protection and security and the strategy through which this can be achieved, remains a priority.
The Turks and Caicos Islands was represented by His Excellency the Governor, Peter Beckingham, and the Honourable Ricardo Don Hue Gardiner, Minister of Border Control and Labour.
The Bahamas Government were represented by, among others, the Honourable Philip Davis MP, Deputy Prime Minister and Acting Minister of Foreign Affairs, Mr Philip Miller, Permanent Secretary Ministry of Foreign Affairs and Immigration, Commodore Bowe, Commander of the Royal Bahamas Defence Force, and Mr William Pratt, acting director of immigration.
Published 31 July 2014