Press release
Taxi testing in Oxford
New taxi drivers in Oxford are now being assessed by the Driving Standards Agency (DSA) before being given a licence to drive a cab.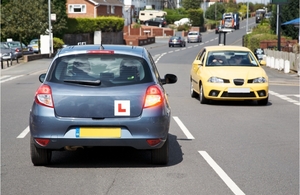 Over 160 councils throughout Britain have already agreed to take taxi testing on board.
Central Operations Change Manager Phil Coop said:
We are delighted that Oxford City Council has decided to introduce this assessment as driving a taxi carries a great deal of responsibility.
Specially trained driving examiners assess the ability of applicants to drive safely and professionally in a 'real' environment. The test includes manoeuvres designed specifically with the operational taxi driver in mind and is set at a higher standard than the practical test for learner drivers.
The assessment ensures the competence of the applicant to drive passengers in safety and comfort. Those who are successful receive a certificate of competence.
Taxi drivers are the only people to carry passengers for money who do not have to take statutory vocational tests. Taxi testing began at Reading and Newbury driving test centres on 1 April 2011.
Julian Alison, Licensing Team Leader, Oxford City Council, says:
Oxford City Council is fully committed to improving road safety at all levels, and the opportunity to participate in the DSA taxi and private hire car driver assessment scheme was seen as an excellent way to ensure that drivers licensed by this council are of a consistently high standard.

The council feels that improving the safety of all people using vehicles licensed by Oxford City Council is of paramount importance.
Published 7 April 2011