Press release
Taxi testing in Hartlepool
New taxi drivers in Hartlepool are now being assessed by the Driving Standards Agency (DSA) before being given a licence to drive a cab.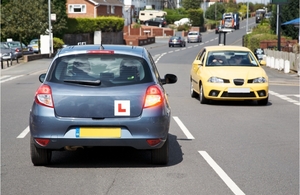 Over 160 councils throughout Britain have already agreed to take taxi testing on board and Hartlepool joined them on 1 April.
Central Operation Change Manager Phil Coop said:
We are delighted that Hartlepool has decided to introduce this assessment as driving a taxi carries a great deal of responsibility.
Specially trained driving examiners assess the ability of applicants to drive safely and professionally in a 'real' environment. The test includes manoeuvres designed specifically with the operational taxi driver in mind and is set at a higher standard than the practical test for learner drivers.
The assessment ensures the competence of the applicant to drive passengers in safety and comfort. Those who are successful receive a certificate of competence. Taxi drivers are the only people to carry passengers for money who do not have to take statutory vocational tests.
Published 7 April 2011