News story
Taskforce publishes SME finance proposals
The Taskforce, chaired by Tim Breedon, CEO of Legal & General plc, was commissioned by the Government to examine a range of alternative and …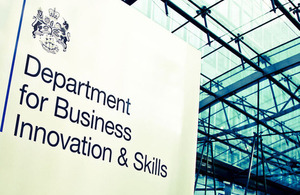 The Taskforce, chaired by Tim Breedon, CEO of Legal & General plc, was commissioned by the Government to examine a range of alternative and sustainable finance sources, particularly for small and medium-sized enterprises (SMEs).
Bank lending is by far the largest source of external finance currently used by businesses, but the Taskforce believes there is significant potential to develop both the demand and supply of non-bank lending to match the financial landscape of countries like the US.
The main recommendations from the Taskforce's report to Business Secretary Vince Cable are:
Increase awareness of alternative financing by creating a single brand and a single business support agency to deliver the Government's range of SME finance programmes, drawing on international examples such as Germany's KfW.
Industry to establish a Business Finance Advice network, comprising the main accountancy bodies.
Open up access to capital markets financing for smaller companies through the creation of a body to bundle and securitise SME loans.
Consider the potential for the Government's Business Finance Partnership to invest in innovative products such as mezzanine loan funds and peer to peer lending.
Encourage large businesses to support smaller companies by reinforcing prompt payment practices, supporting greater use of invoice discounting and utilising supply chain financing to invest in smaller suppliers.
Government and industry to review the impact of international prudential regulation such as bank and insurance capital rules on the supply of SME finance.
Increase the UK retail investor appetite for corporate bonds.
Business Secretary Vince Cable said:
"We need to reshape the UK's finance landscape to better serve the needs of ordinary businesses, helping more companies find the support they need to start and grow.
"Tim Breedon's Taskforce has brought together industry, investors and advisers to provide evidence and ideas on increasing the range of finance sources available to small businesses. I thank them for their hard work and detailed recommendations, and I hope this will represent a turning point in business finance in this country."
Tim Breedon, Chairman of the non-bank lending Taskforce, said:
---
"There is compelling evidence that access to finance is expected to become more acute as business confidence and growth returns, whilst continuing bank deleveraging is likely to leave a significant funding shortfall.
"Whilst there is no silver bullet to addressing this issue, we have made a number of recommendations which I believe will collectively help open up alternative financing channels for UK SMEs."
John Walker, National Chairman, Federation of Small Businesses, said:
"We very much welcome this report as the recommendations chime closely with changes the FSB has called for to open up finance for small businesses. Bold action needs to be taken to ensure a behavioural shift so that small firms know what alternatives to bank finance are available.
"Putting the Government's financial products under one umbrella organisation and looking at a pilot SME bond scheme, as well as learning what works well in other countries is a good step forward and we urge the Government to take forward the recommendations as soon as possible."
The report anticipates growth in demand for finance as the economy recovers, and the expected constraint on availability from banks as they deleverage could create a finance gap for businesses of £84 billion to £191 billion over the next five years.
The Taskforce's recommendations on increasing the supply and take-up of alternative sources of finance are aimed at closing this gap.
The Government will now review the recommendations presented by the Taskforce and announce its response shortly.
---
Notes to editors:
---
The full report can be accessed at http://www.bis.gov.uk/businessfinance from 10am today.

The non-bank lending Taskforce comprised the following members:
Chairman:
Tim Breedon, CEO L&G
Panel members:
Xavier Rolet, LSE
Dame Helen Alexander, CBI
James Douglas, ACT and Deloitte
Charles Roxburgh, McKinsey
Chris Rowlands, Rowlands Review and Finance Wales
Brian Robertson, HSBC
Julian Franks, London Business School
The Government announced in the 2011 Autumn Statement that it would commission a review of non-bank lending to report to the Business Secretary ahead of the 2012 Budget.

This year the Government is running the Business in You campaign to encourage more people to start or grow their business throughout 2012. More information is available at businessinyou.bis.gov.uk.

BIS's online newsroom contains the latest press notices, speeches, as well as video and images for download. It also features an up to date list of BIS press office contacts. See http://www.bis.gov.uk/newsroom for more information.
Notes to Editors
Contact Information
Name BIS Press Office Job Title
Division COI Phone
Fax
Mobile
Email NDS.BIS@coi.gsi.gov.uk
Name James Platt Job Title
Division Department for Business, Innovation and Skills Phone 020 7215 5978 Fax
Mobile
Email james.platt@bis.gov.uk
Published 16 March 2012